Winter Break 2004~2005
Hi Kids, it is time to hit the trail again.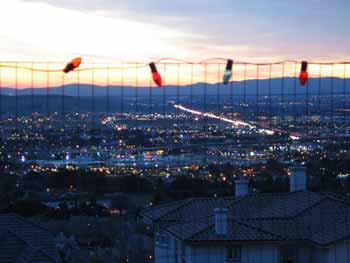 We left Mendocino the 21st of December and spent our first night at my sister and brother-in-law's home high in the hills overlooking Dublin, CA. We had a great pre-Christmas gift exchange and dinner and a comfortable night in their guest room. The view out the window was of the traffic inbound and outbound on I-580. Interesting, but a bit much for my taste! I'm anxious to get back to civilization!
We spend all day driving down I-5 after leaving Dublin. We arrive in Bakersfield early enough for me to stop at Harbor Freight and Garbage to buy a high lift jack and a one million candlepower spotlight! The spotlight will be used for night flying my airplanes! The jack? Just in case...
We had our usual Basque dinner in Bakersfield and then hopped over Tehachapi Pass to Mojave. We woke to a temperature of 17 degrees and the water pump and drain in the Vanagon froze shut! I had to put my Coleman heater under the water tank drain for about twenty minutes to get it to thaw enough so I could get water for our coffee and oatmeal!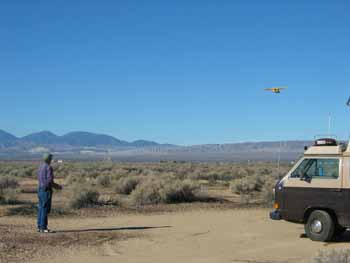 Soon it started warming up and Ah! This is more like it, flying my LazyBee east of Mojave.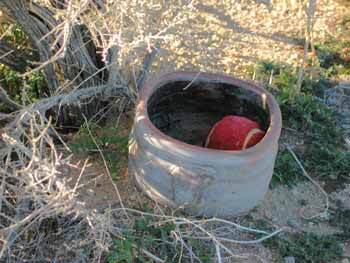 We checked on my doggie and found her doggie dish and tennis ball right where we had left it as a marker for her grave.
On to Barstow to stock up on groceries. So far, our trip pretty much like every other winter break.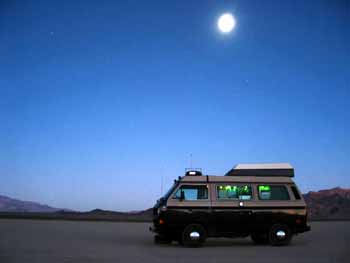 We spent the evening camped on a dry lake bed north of Baker called Silurian; green chili Christmas lights inside the Vanagon and an almost full moon in the sky.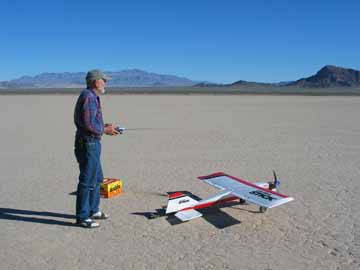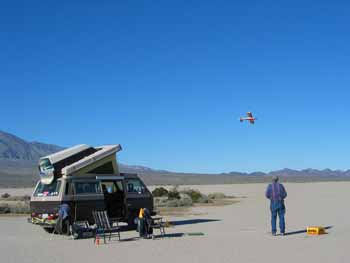 In the morning I flew my Ultra Stick. The new "box" on top of our Vanagon is a container I built to haul along my model airplanes. It seems my hobby has expanded to the point where it doesn't all fit inside anymore!!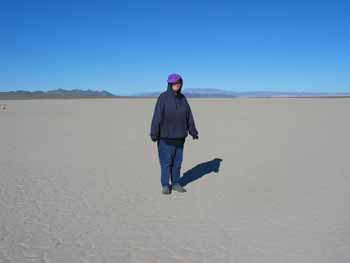 While I'm flying Lolli goes for a walk-about.
And then it is onward to the Tecoupa Hot Springs for a shower and a soak.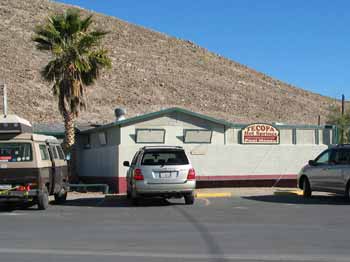 There is a new policy and it now costs five dollars, each, to enjoy the springs. The biggest change I notice is the buildings have been freshly painted and there is new signage. Mostly SUV's parked at the springs. Us desert rats and rat-etts have been pretty much priced out. Ours vehicle was the oldest in the lot.
And then it was time to check on Bedsprings to see if the cabin is ours. It is always interesting to make the long drive out the washboard road, up the alluvial fan, down and up through the wash, around the rocks and then down the final wash still not knowing if the cabin is ours until we make the final bend.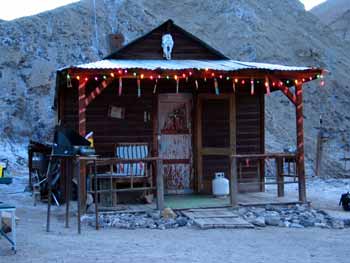 By Christmas eve we have the cabin decorated.
Christmas Day our friends Marti, Jeff and Old Tom come out from Pahrump,
Nevada bringing Christmas dinner and firewood.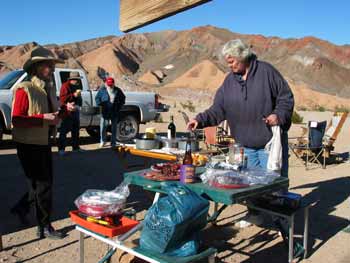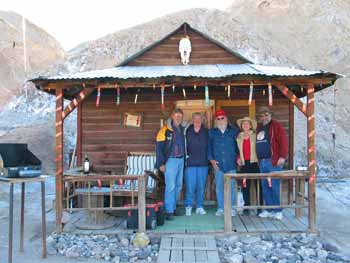 A great time had by all. Lolli and I stayed two more days.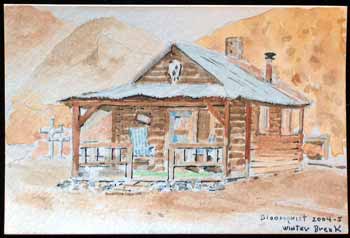 I had the time to do a little watercolor. Fun!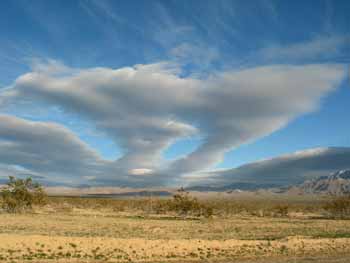 And then it was time to head south towards Anza Borrego. An internet friend, Bev, who I met via the "Wetwesties" list serve, told us about her brother and nephew being involved in a model rocket club that was doing a New Years weekend rocket launch. We exchanged cell phone numbers and told her we would call when we got in the area. During the drive south the first indication of changing weather occured between Kelso and Amboy. By the time we got to Twenty Nine Palms and Yucca Valley it was foggy and raining! We found a place to hole up on high ground near Desert Hot Springs and called it a night.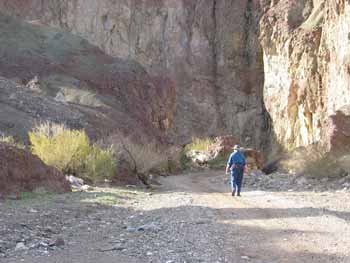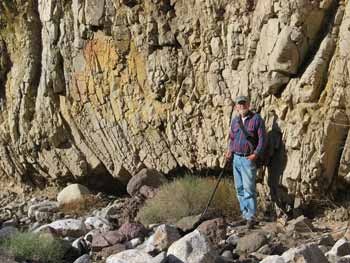 We arrive near the launch site sooner than we thought we would so I look at our map and notice a place called Painted Gorge. About a five mile drive off the blacktop and we park on high ground. In the afternoon hike into the canyon. An interesting area.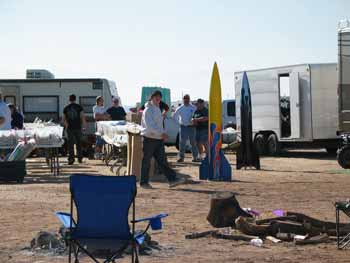 Friday, New Year's eve day we call Bev, tell her we we are on our way, and drive to the rocket launching site just east of Plaster City. We met Bev and her Brother Phil, and set up camp. All told there are about thirty rocket heads and groupies camped in motor homes and trailers and tents. An interesting group of folks.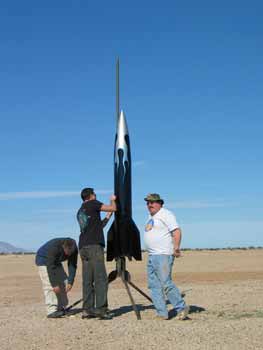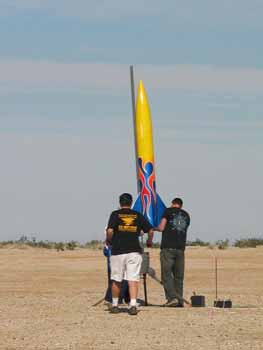 Oh goodie! These guys look serious!! There were several rockets like this called Thumpers.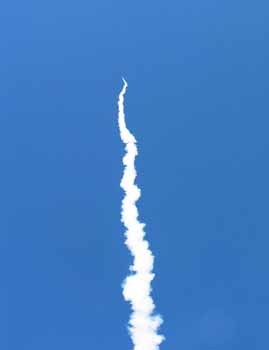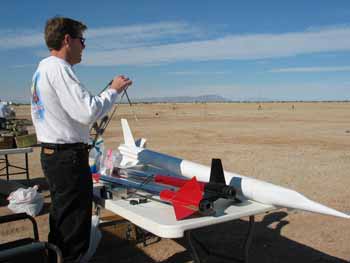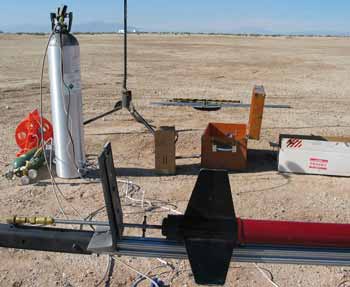 But wait. What's this? A guy named Paul is putting together a "Hybrid" rocket. It has a motor that uses compressed nitrous oxide to catalyze a ABS plastic propellant. A wee bit of pure oxygen gets the burn off to a good start!!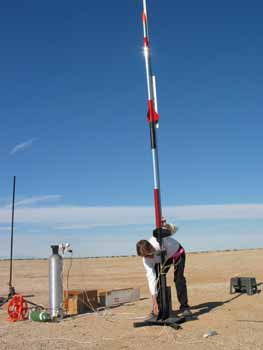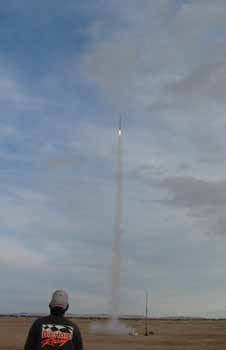 Final assembly, count down and..., yes!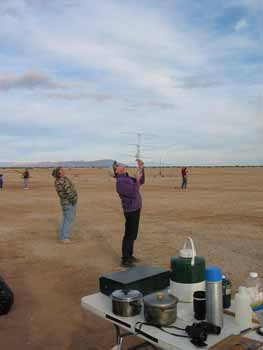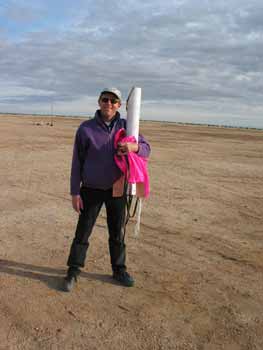 Radio tracking is the only way to keep track of it! A good recovery and Paul is a happy guy!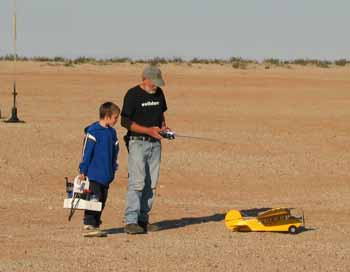 Between launches I got in some stick time and showed my new assistant, Zach, how to fly my LazyBee. He did remarkably well once I had it up and flying. Come to find out he was an old hand at radio controlled cars! At night Zach operated my new spotlight and tracked the LazyBee for me while I put on a night show for the crowd.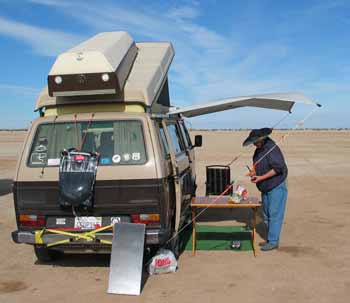 As for our camp set-up, this is the full Monty! My twenty watt solar panel is leaning against the rear bumper facing the sun. My new high lift jack is strapped to the rear bumper. Our solar shower bag hanging on the rear hatch getting warm. The pop top is popped with the airplane box on top. The ShadyBoy awning is deployed. Our astro turf is in place and Lolli is standing by the new table. A warm day. No wind. As good as it got this trip!
A guy by the name of Robert had e-mailed me a month earlier telling me how much he enjoyed my webpage about my Subaru conversion and that it inspired him to do the same thing to his 1984 Vanagon. One thing and another and he mentioned he was going to come out west on winter break. I told him about the Plaster City rocket launch and he said he hoped to make it. We exchanged cell phone numbers and by golly, he called! He was heading west and passing through Yuma!! We fine tuned his directions and soon we had three Vanagons circled!
On Monday, after the rocket launching weekend, Bev guided us to one of the camp spots she likes in Anza Borrego called Mountain Palm Spring.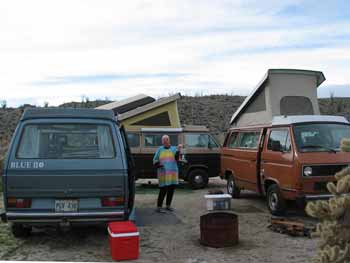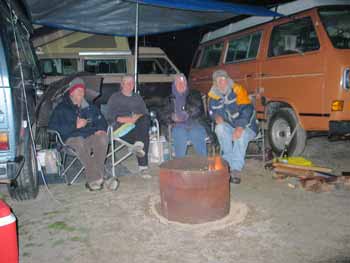 We circled the Vanagons. In the evening we had to erect the "Wetwesties" rain shelter kit that Bev, of course, had with her, she being from Oregon. It was the typical twelve foot square of blue plastic tarp, gob of bungee cords and one extendable aluminum pole that every camper from the Pacific Northwest is familiar with!!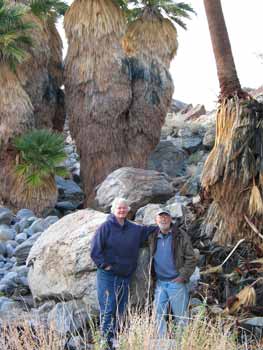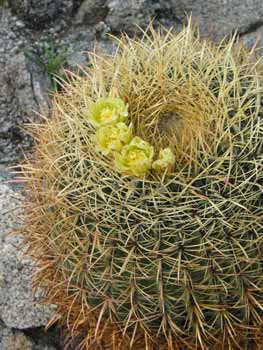 In spite of the weather we did manage to get in a hike and inspect some early blooming cacti.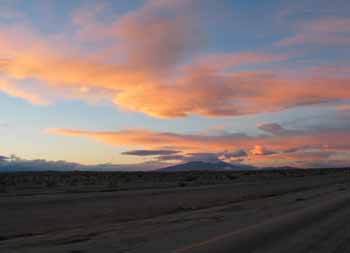 The next day Robert followed us towards Death Valley while Bev headed for Yuma.
Once again, during our drive north, the clouds were forming.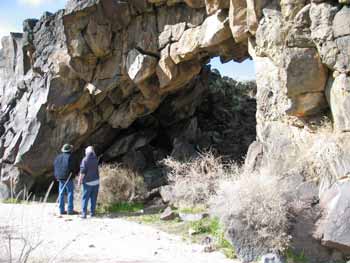 On our way to Death Valley we camped one night by the Lava Tube and petroglyphs we discovered last Spring and showed them to Robert.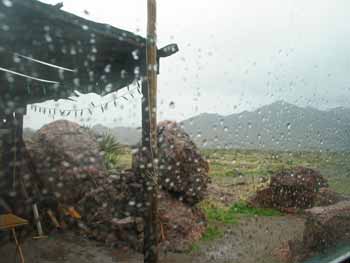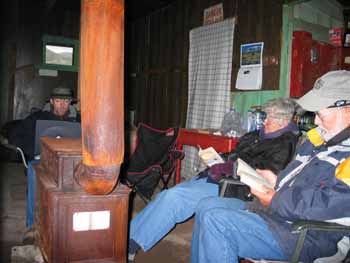 The next day we hit the Tecopa Hot Spring and then went over Salisbury Pass and down to Rhoades Cabin in the south end of Death Valley, got a good fire going in the wood stove, hunkered down, and read our books.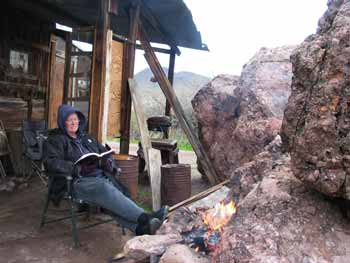 There were some sun breaks but over all the weather was iffy and snow turned Salisbury Pass white!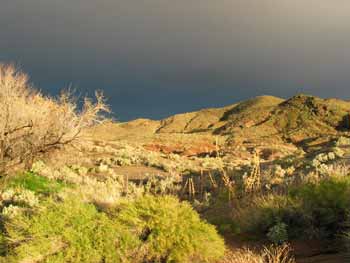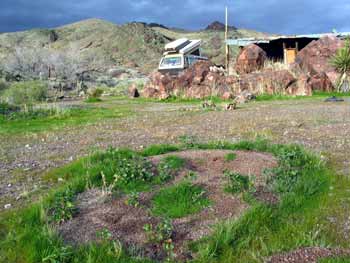 Strange and ominous weather but the greenest we have ever seen Death Valley.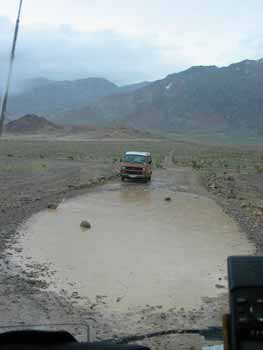 After two days at the cabin we head on towards Badwater. We soon discover this is the wettest winter in Death Valley in the ninety years of recorded rainfall.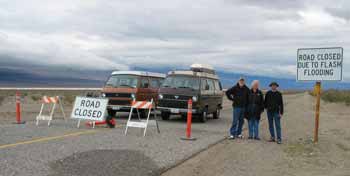 After driving through Death Valley and having hamburgers at Furnace Creek we spent a wet night camped in Panamint Valley. In the morning we thought we would go out the south end of Panamint Valley through Trona but discover the signs are not lying! Robert elects to return east via Death Valley. We decided to cut our vacation a bit short and head for home via Owens Valley..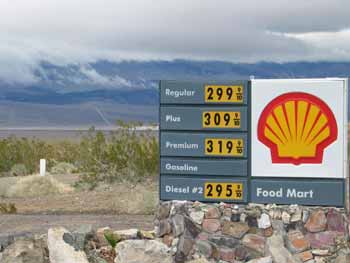 On our way out of Panamint Valley we discover Panamint Springs is open so we stop for hot showers and admire the gas prices.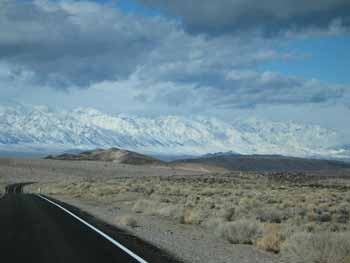 Over the pass and down towards Lone Pine and the Owens Valley we see the Sierras are covered with snow almost down to the valley floor!! Stopping for gas in Olancha we discover Highway 395 is closed near June Lake. The only way home is south to Walker Pass, then over to Bakersfield...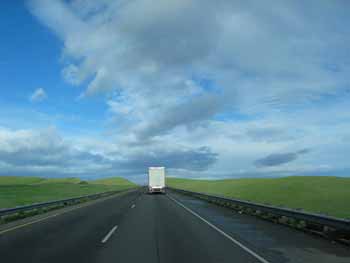 and up I-5. The weather improves the further north we go!!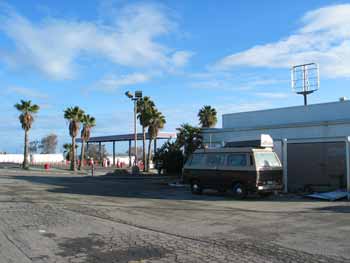 Our final night on the road we "stealth camp" behind an abandoned gas station!
January 10th we are home. Oh well. Spring Break is coming and the wild flowers should be spectacular.
The Vanagon performed flawlessly. The new deep cycle battery I added to the Vanagon powered our Christmas lights, computers, cell phone, bean grinder, recharged my AA and AAA batteries and still had juice in the morning. I never got to use my new high lift jack. I didn't crash any of my airplanes. Lolli read over ten novels. The weather was wild all around us but we managed to skirt the worst of it. Seeing Jeff and Marti and Old Tom and meeting Bev and Robert and the "Rocket Heads" at the launch site was unusual in that our winter trips are generally quite solitary. Great folks all and a pleasure to meet them!
In the final analysis, what I would call, a very interesting trip.