June 27
From the RAMS model airplane field we cut over to Auburn and take highway 16 to North Bend, Washington, then settle back for the long haul over Snoqualmie Pass on I-90. When we reach Ellensburg Lolli wants to stop at a store and buy some sandals; she thinks she left hers at her mom's. (turned out she didn't) Anyway, while she is shopping I check my DeLorme Topo map. I had originally planned our route to Denver by typing in Seattle as our starting point and Denver as our end point and letting the software decide the route. It indicated that it would be 1,340 miles to Denver via Salt Lake and I-80. Being curious I wondered how much farther it would be if we stayed on I-90 all the way to the Big Horn Mountains of Wyoming and then down to Denver on Highway 25. The software grunted and displayed 1,370 miles. Only 40 miles difference! Lolli returned from the store with her new sandals and I told her we are going to Spokane! "We are going to stay on I-90!"
"Cool",
and away we go!
By early evening we are free camping up some logging road in a national forest east of Coeur d' Alene, Idaho. Perfect!
Driving along the next morning I mention some of the towns we will be passing through and when I mention Big Timber, Montana, Lolli perks up and says her friend Pat has a fly-fishing ranch on the Boulder River just south of Big Timber, Montana. We called Pat on the cell phone and she says, "Come on ahead!".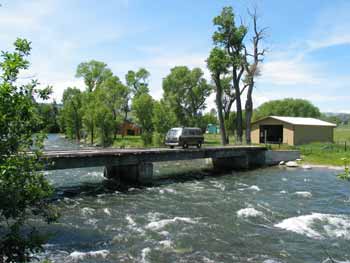 Crossing the Boulder River
So, our second travel night we spend beside a very nice river. There are a lot of barn swallow nests on the side of an old barn on the ranch. The swallows came out to squawk at me when I happened to walk by. Later I got out my electric flying wing and flew it out over the cow pasture and then buzzed the barn.
Here they come! Twenty or thirty barn swallows hot on the tail on my flying wing trying to chase it away! (The white streak is a contrail.)
You've heard of Dancing with Wolves? How 'bout,
"Flies with Swallows"?
In the morning we thank Pat for the nice stay and hit the road. I tell Lolli about our family vacations in the Big Horn Mountains of Wyoming when I was a kid. I told her about our visiting Medicine Wheel and staying at Bear Lodge. She wants to see it all! Oh goodie!! We leave I-90 and drive down to Lovell, Wyoming.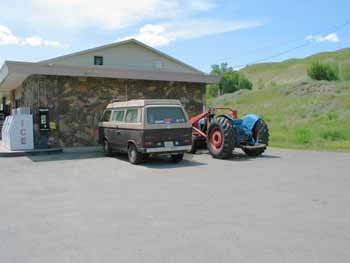 Sure looks like we are in Wyoming!
We do a quick stop at a convenience store to buy ice Soon we reach Hwy 14-A and start driving up and up and up the switchbacks into the mountains. It is an amazing road but it is not near as scary as the road I remember as a kid.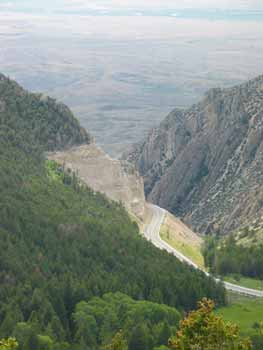 This is a new road that replaced the old road. We drive to the trailhead for Medicine Wheel, park the Vanagon, and have a nice hike to the Medicine Wheel site and back. It was good to get out and do some walking for a change.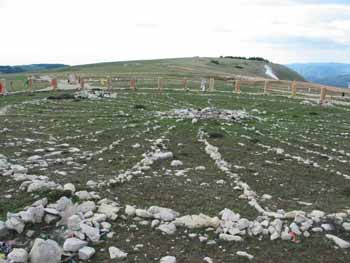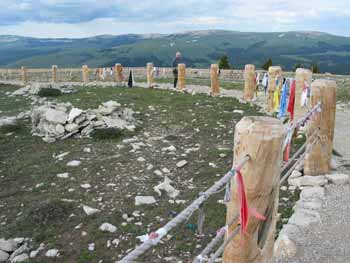 It is estimated that Medicine Wheel was laid out with limestone rocks and boulders sometime between A.D. 1200 and A.D. 1700. It is 80 feet in diameter and has 28 spokes and 6 rock cairns. Nobody knows by who or why.
There is a fence around the site and people put trinkets and prayer flags and beads and feathers on the fence. Evidently it has become a place for vision quests and a special place for Indians and non-Indians. We really liked it.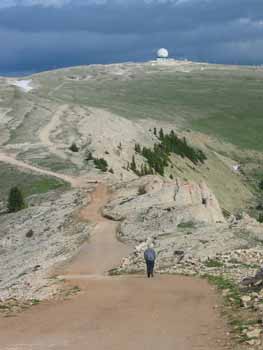 There is a huge radar dome on the mountain top just a few miles away that wasn't there when I was a kid but then the fence wasn't around the Medicine Wheel then either.
On the way back to the Vanagon we see a marmot and a Pika. Lots of flowers, the kind of flowers that seem to thrive above tree line.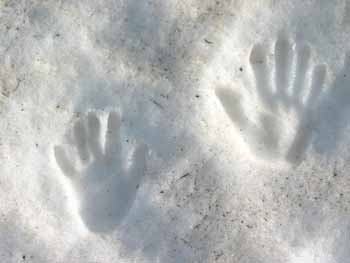 There is a snow bank and we had to do "his and hers" hand prints!
On to Bear Lodge. I tell Lolli about the Brook Trout my brother and I would catch in the creek behind the lodge and cook for dinner; clean them with scissors, roll them in flour, cook them in an iron skillet with butter. I work us up into such a state I tell her I will buy us a trout dinner at Bear Lodge! We get to the lodge and it doesn't look at all familiar. The restaurant is open so I walk in to see about a trout dinner. "No trout." They have prime rib, chicken fried steak, enchiladas, the same thing you can get at any chain. It is dark and smoky inside and people are hunkered down in big naugahyde booths and... I... just can't do it. Forget it. I'm outta here!!
We drive around back to see if the old log cabins we used to stay in are still there. There were some small log cabins but even they didn't look the same but hey! What do I want after fifty years! At least the mountain terrain is the same. High mountain forests of spruce and birch and gobs of flowers. We backtrack up the road a ways, take a dirt road over a hill, then a smaller dirt road behind a stand of trees.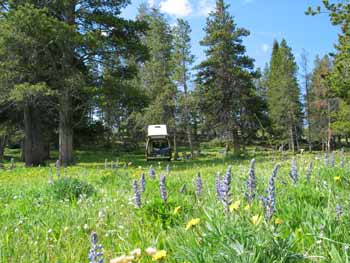 A fire ring and a stack of wood awaiting us. Perfect! We have a campfire for the first time our whole trip.
In the morning, after a lazy get-up and breakfast, it is time to head down out of the mountains and back onto I-90. Soon we reach HWY 25 and head south for Denver. I want to camp by the Platte River but we can not find any good spots.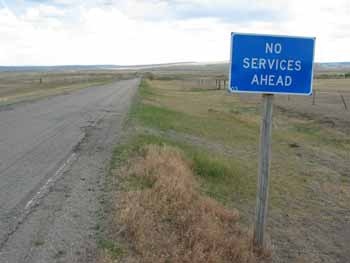 Onward. And onward. The few access roads we come upon are fenced off or go to ranch houses. Finally there is a turn off that will take us to a National Forest but the forest is a 30 mile drive! We take it anyway but after seven miles we come to a wide spot that isn't fenced.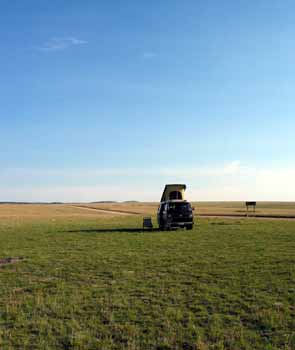 Good enough! We have definitely entered the land where the deer and the antelope play!
Up in the morning and on to Denver. Some rain showers with lightening bolts off in the distance. Summer storms. We reach Fort Collins and from there on to Denver it is developments, one after another. Gobs of huge homes and industrial parks spreading out over the range land. And finally... Denver. The conference Lolli is attending is right downtown. What a zoo! I park by the curb in front of the Hyatt and Lolli unloads her bags. A quick hug and kiss and she is gone and so am I.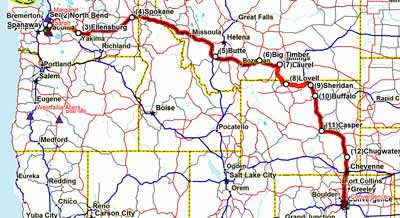 Our route from Seattle to Denver.
I don't know where I'm going for three days but it has to be out of town and up in the mountains. I find HWY 6 heading west out of Denver. After a few miles it turns into I-70. Up into the mountains I go into pouring rain. "Starter Castles" and "MacMansions" on every scenic point. Then I pass old mining towns that are now white water rafting towns. Onward through the poring rain. A turn off onto Hwy 40 appears and I decide on the spur of the moment to take it. Soon I am going up switchback after switchback heading for some ski park. My topo map shows there will be some forest roads in the Arapaho National Forest once I get there. I finally reach the snow park and it is all ski condos and huge developments. I drive around but can't find any way to get to the forest roads. Further on I come across a small road going off to the right. A sign says something about the Moffat Railroad. Up that road I go, and go. Soon I realize that I am driving on a railroad grade! There are still ties in places!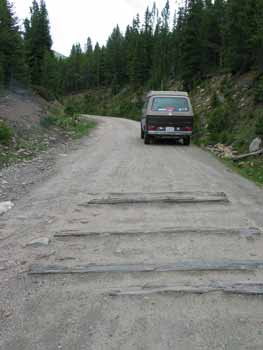 Cool! But, each time I see a turnoff there is a gate or a no trespassing sign. Onward. Finally I come to a "Y" and a small road doubling back a ways. I stop, walk in, and arrive at a clearing that obviously had buildings, once upon a time. There are a few stone foundation still evident. No "Keep out" signs. Perfect!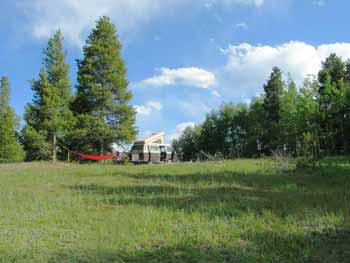 I pull in and find a nice place to park beside a fire ring and a pile of wood. The rain has stopped, my hammock is up and the sky is clearing. Later in the evening two guys in two pick-ups pull in and set up camp in the forest on the far side of the clearing. After a while I go down and talk to them. They are from the Denver area and come up here every year to camp for a while. They tell me that this used to be the town of Arrow.
Next morning, after breakfast, a bunch of car doors slam and I see a group of people coming up into the meadow. I go down to see what's up. It is a tour group!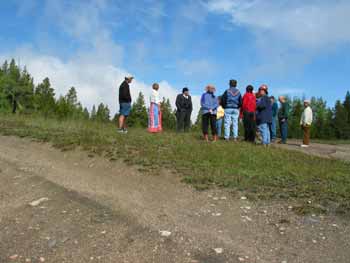 Two people are dressed in period costumes and it turns out they were giving a tour of the town and railroad! The lady is a descendant of the people who used to own, or work, in the old hotel. They invite me to tag along and listen to their talk.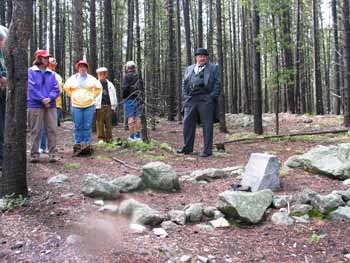 We walk out to the cemetery where only one marker is left and there is controversy over whether it is real or a spoof.
The lady shows me photos of the original town. The red arrow (I added) points to the building whose foundation stones I am parked by.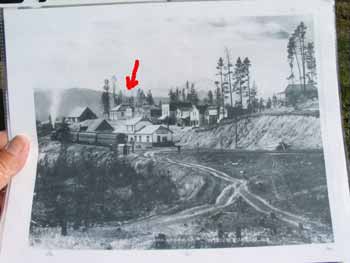 After they leave I talk to my neighbor campers Lane and Ted. They are going into town for supplies. I ask if they will pick me up some eggs and sausage. They invite me to ride along and away we go. Down to Hwy 40 and then into the town of Frasier which has a Safeway. I stay in the truck with Lane's dog Kiko because Lane forgot the leash.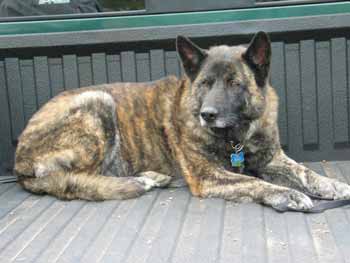 Kiko is a nice dog.
Back at camp they tell me about the railroad grade and trestles and interesting places to go see. I leave some stuff at my campsite to mark it and head up the grade.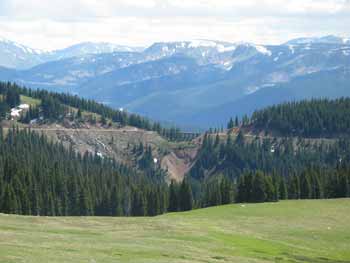 This is an interesting feature where the railroad grade came up the hill, though a tunnel, went around the hill and back over the tunnel on a trestle! In the center of the above photo is the trestle and below it, the big dirt slide is where the tunnel was. It is now caved in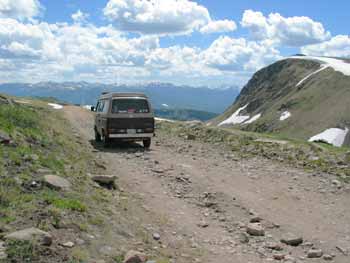 Higher and higher. Eventually I rise above the tree line! Beautiful. Snow pack in the depressions. Pocket lakes.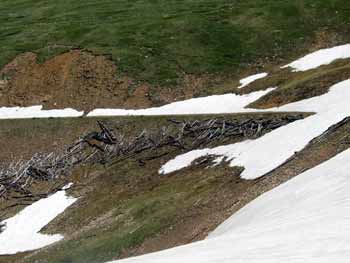 There is lots of lumber on both sides of the road, the remains of what used to be a wooden snow tunnel that helped keep the tracks clear. At the top of the grade is the foundation remains of a hotel and a sign!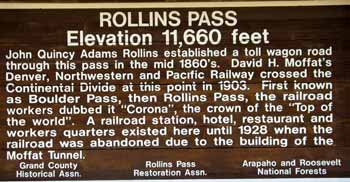 There are signs also marking the Continental Divide hiking trail. I hike out a ways to look down at Lake Corona which has snow along one side. I can see the trail going down but it would be quite a hike. And then I see about six hikers come over the ridge far above me. They must be hiking the Continental Divide trail.
Heading back down there is a great place to practice slope soaring with my electric wing but the wind is too strong for me to try.
Back to camp. I call it a night rather early.
July 2nd
The sky is cloudless! About 40 degrees during the night. Remarkably I have NPR on the radio and cell phone coverage at my campsite!
I decide to have a lazy day. The hammock is up and the lawn furniture out. I clean the Vanagon and scrub the stove. In the afternoon I get out my watercolor equipment and do a couple postcard size landscapes of the views from camp.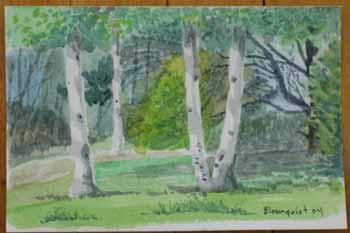 I have not done a watercolor in years and I really quite enjoy doing it again. I have some success but have a lot to learn.
Since it is Friday and the beginning of the Fourth of July weekend I am concerned that I will be inundated with campers but only a few show up, check things out, and move on. I have fluffed up my campsite to look big, doing my Puffer fish routine I tell Ted and Lane. They have blocked off access to and around their site too. Mountain bikers zoom past on the trail now and then and a couple on a pair of ATVs cross between Ted and Lane's camp and mine; there is a big open area between us.
I go to bed early again and Ted and Lane come into their camp quite late.
July 3
Another beautiful morning. Not a cloud in the sky. I have my solar panel out. Maybe go for a drive and a hike later. Actually, with camp set up like it is I don't know if I want to leave. I will figure it out as I go.
July 4, morning
I get a call from Lolli. The conference is over and she will be ready to go earlier than planned, I can come pick her up now if I want. Oh goodie! I had packed most everything the night before so I am basically ready to go. I tell her I am about one and a half hours away. She says she will be waiting in the restaurant writing post cards. Ted comes over and says good bye.
The evening before my laptop locked up again! For some reason it has started locking up, now and then, and it will not restart, not restart, not restart for days and then... suddenly.... it will! But not now.
With the laptop locked up I no longer have my topo map route back to the convention center so I am running on recall. Hwy 40 to I-70 to HWY 6. Then head for the tall buildings. I remember the name Hyatt was writ large up on the south side of the hotel.
I finally arrive amongst the tall buildings but I can't see where I'm going. I finally stop and get out the convergence brochure Lolli had left in the Bus. I find the Hyatt on the map and soon arrive at the actual building. I park in view of the restaurant where Lolli said she would be waiting writing post cards. I wait. And I wait. No Lolli. Maybe she went shopping with Holly. I wait and wait. One half hour. I check the restaurant. No Lolli. One hour. One and a half hours!! I check the front desk. No Lolli listed. Maybe she roomed with one of the other weaver ladies. I wait.
Finally Lolli calls me on the cell phone, "Where are you!".
"I'm sitting right here where I'm s'posed to be. Where the Hell are you!".
"I'm sitting on the bench waiting for YOU and have been for two and a half hours!".
I don't see her. She doesn't see me!
Finally it is discovered that I am at the wrong hotel!! I should be at the Holiday Inn two blocks over!!
I drive over to the correct hotel and Lolli and her friend Jackie are there, it was Jackie's cell phone that finally broke the impasse!!
I am in a STATE!! I was so sure Lolli had screwed up and here it was me that was totally wrong... Hyatt / Holiday Inn. Hey, they both start with an H. (It is Hell to get old!)
Lolli puts her bags in the back, hops in the passenger seat, we say goodbye to Jackie and are finally on our way out of Denver. I hand Lolli a Denver map and tell her we have to get to Hwy 25 to get to I-76 which will be our highway to North Platte, Nebraska. I am still so enraged and upset with myself that I still can't talk when Lolli asks me about my weekend.
Finally, after a few miles, as we get further out of the city, I ask Lolli about her stay at the conference. Fortunately she tells me about it with some detail and gradually my rage dissipates and I can start thinking and communicating again. Come down off my high horse as my mom used to say---
In time I can talk and I tell Lolli about Lane and Ted and Kiko and the wonderful time I had but I still feel like I have been kicked in the gut and here I did it to myself. Unbelievable!