Spring Break 2002
continued....
April 9
We enjoy perfect sleeping temperature throughout the night.
In the morning, as I make coffee, Ed is timing the suns travel up a rock face and Suzanne has spotted some Chukar! Quail type birds from Europe. They are very colorful and they blend in with the local rocks. We count eleven of them. Quite entertaining.
Soon it is time to pack up and hit the trail. Suzanne has been looking at a map and has discovered a rock area she wants to investigate. Good enough, we're outta here but we must remember this place. It is worth coming back to another time.
We drive out of the canyon, zip over to I-15, and a couple exits later take an off ramp to go to Suzanne's "rock area".
I don't see any interesting rocks but I spy what I think is a three toed sloth!
"Forget this!", I tell Suzanne, "I know where the real rocks are kept"!
Back onto the freeway we head for the next cache, "Would You Like to Buy a Vowel". It turns out to be at the ZZYZX turn off. My GPS takes me right to it once I get aligned with my compass but by then Ed and Suzanne are already standing there and are giving me the George W. smirk!! I hate it when that happens!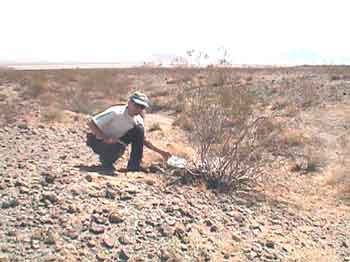 Yes Ed. I see it!
Next cache? "Some like it hot". We take the Baker exit and drive to the thermometer. This is another virtual cache and the author has asked a question. We find the plaque he describes and write down the "Job Number" for later e-mailing. We then visit the desert center which is right there. Lolli buys me a book about petroglyphs for my birthday.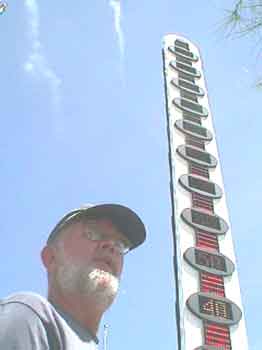 Ed takes my photo in front of the thermometer.
While in town we re-fill our shower bags and then do the grocery and gas routine. Last stop is the Mad Greek restaurant where we buy Gyro's and then we are outta there and heading north for the the hot springs of Tecoupa. Somewhere on the way is the "Silver Lake? - What Lake?" cache.
The waypoint for "Silver Lake - What Lake? leads us to an area that is way past Silver Lake but what do we know? We continue on until the waypoint goes sideways and we pull off to the side of the road, stop, and then gaze off towards the west at nothing much but grease bush. The cache should be about .25 mile out there!
We eat our lunch and then Ed and I put on our Geek Bags and do rags and head off into the desert. The wimmin sensibly settle back into the shade of the Vanagons and read their books.
As Ed and I get close to the cache we see tracks in the sand. From there on we could have found the cache without our GPS by just following the tracks They lead right up to a single bush with a pile of rocks in the center! Cool! But rather hot.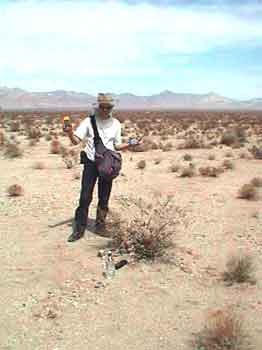 We log in and then head back to the vehicles.
Next stop the hot springs of Tecopa!
Entering Tecopa we see changes. The building next to the post office has burned down and the post office was damaged and is now closed. A portable post office has been brought in. The grocery store and restaurant are now closed and the trees at the "Y" have been severely pruned! No ice for sale anywhere. We should have bought ice in Baker and now there is no ice. Damn! We leave the place alone for a year and it goes to hell!
We soak in the hot springs and meet a guy from Las Vegas who has some ice he will give us.
He is heading back to Vegas and no longer needs what he has left.
Good enough. We take it and pour it into our ice chest. We zip out of Tecopa and head back down the highway to the turn off for the "Wade Route" into Death Valley and the start of our rattle down the washboard road. I find that driving around 35 to 40 miles per hour seems to be about the smoothest harmonic for the Vanagon but is nerve wracking. Finally we reach the turn off to Saratoga Springs, cross over the dry Amagosa River and head up to our favorite camping spot. We arrive rather hot and bothered and I realize the place may not look like much to Ed and Suzanne but we soon settle down with some beers and wine and chill out. Lolli and I spent four days here back during Christmas Break/New Year break 2000/2001 and we love it. Of course it is a bit warmer in April than it was in December! Up around 103!
I tell Ed I want to place a virtual cache at the Ibex Mine and point to the mine off in the distance. "Way over there beyond the sand dunes." When it starts to cool off Ed and I put on our Geek stuff and head for the mine while Lolli and Suzanne head for the Ibex sand dunes. It is 5:00 in the evening and 88 degrees, some overcast, but a nice breeze blowing.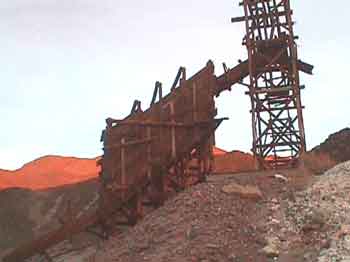 We finally arrive at the mine. I download the coordinates, take a photo, and find something to ask a question about for my "virtual cache question". I decide to ask how many rungs are on the ladder going up the southwest corner of the structure and name my cache "Ibex Mine"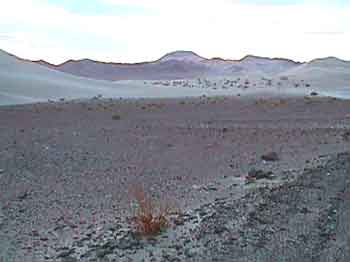 We then turn and gaze back towards camp. Oh oh! Our Vanagons are parked just below the rounded hill in the middle of the above image!! We have a long way to go and the sun is down!
8:00 at night and way dark Ed and I finally stagger back into camp! It turned out to be
2.32 miles to the mine. Over four and a half miles round trip in three hours plus caching time! I'm whipped!!
We barbeque chicken, do the mashed potatoes, and marvel at the stars. Soon after going to bed the wind picks up and then it really gets wild. I put the top down. Dirt and dust blowing around. Way wild! Eventually the wind settles down to a reasonable roar and then dies off.
I wake up at 6:30 to peace and calm and the rising sun.. Happy Birthday to me. It is…
April 10
I am now 61 !!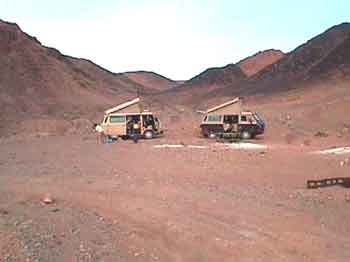 We have an easy get up, putter around, have breakfast and pack up the Vanagons. "The plan" is the ladies will take one Vanagon and go down to Saratoga Springs to see the birds while Ed and I go place another virtual cache on up the hill. This one I want to record the coordinates of an old truck I know about that is lying in a ditch up the hill past the talc mine. Ed and I put on our Geocaching geezer garb and start hiking.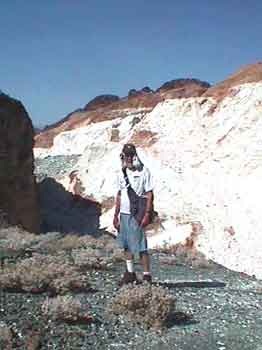 Here I am in full-on Geezer Geek Garb by the open pit talc mine.
Ultimately it turns out to be .61 miles up to my truck virtual cache site. The lettering on both sides of the truck are legible and my virtual cache question is..
What is the number lettered on the door of the truck?
(I have removed it via PhotoShop)
In the above photo you can see sand dunes off in the distance. My "Ibex mine" cache is just beyond them.
Ed hikes on up to the top of the hill to log a virtual cache he will call "Extra Credit" while I am logging the coordinates for mine which I name, "The So-Cal Mining Company". Then we hike back down to the bus, load up, and go back down the road to catch up with the ladies. We discover the ladies have gone for a walk along the marsh and Suzanne saw a ruddy duck. I tell her they don't taste near as good as Chukars!
By noon we are back on blacktop heading for Shoshone and ice. Once we are iced up and refreshed we head for Death Valley Junction and the turn off down into the tourist end of Death Valley. Coming down to the Valley floor we arrive at the "Motown Five Death Valley" cache site but about all we find are the restrooms at a rest stop. Onward!
Crossing the floor of Death Valley I want to leave a cache, a rock cache. Between Emigrant Springs and Stove Pipe Wells a perfect location appears. We park and Ed and I hike to it. It is a small hill of stones. I had originally thought we would spell Geocache on top in stones but when we got on top there was one rather large rock that was very weathered and split in many pieces.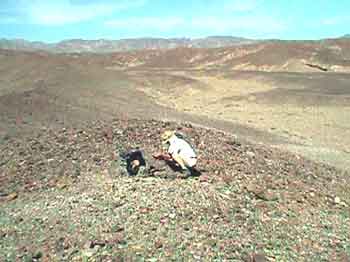 Ed assembled a cache container out of the split rock pieces in a natural cavity in the rock and then we put in our "pretty rocks" that we had gathered during our walk to the Ibex Mine. Perfect! I record the coordinates and named it;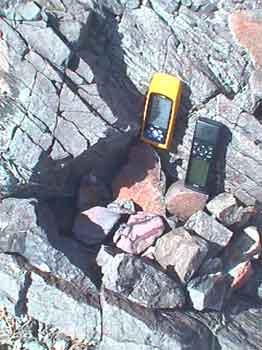 Geocaching seems to not be popular with the National Park Service. Evidently they think we are just a bunch of folks out littering the landscape with Tupperware containers and ammo cans but one of the main concepts of Geocaching is "Cache in/Trash out". We have picked up several garbage bags full of trash so far in our travels.
Anyway, I just had to make one out of rocks containing only rocks.
I want to see if the NPS is going to squawk about this one too.
Note: They did and it was archived.
We stop at Stove Pipe Wells for ice cream. Then onward, up, and then down into the Panamint. Ed says his brakes are hot and we stop to let them cool. While waiting Ed decides to place a cache. We wander off from the road a ways and find a fair sized square rock. Ed builds up a cache out of rocks against it. We put some local interesting looking rocks inside, Ed averages a waypoint, names it "Panamint Rock Cache". and that's it. We're outta here.
On down to Panamint Valley and up the other side. I am convinced we don't have enough gas to reach 395 but Ed doesn't seem too concerned. Fortunately there is gas at Panamint Springs; a brand new Shell station and we buy
some at $2.24 per gallon! I put in 5 gallons.
We reach the turn-off for our last view back down into the Panamint.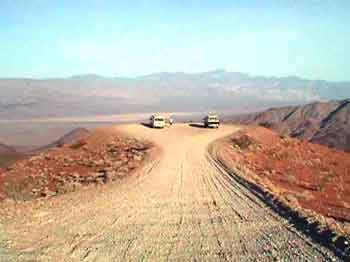 Spectacular as always.
We reached HWY 395 (My odometer reads 283 miles since the last fill up. We might or might not have had enough gas if it weren't for that Shell station) and soon reach the turn off for Whitney Portals and on up that a ways we come to the turn off onto "Movie Road". Movie Road is a road through an area where a lot of cowboy movies were filmed. If you remember Roy Rogers or Gene Autry you should recognize some of this terrain.
After some wandering around in the Joshua tree type rocks we find our spot, circle the busses, and commence my birthday party!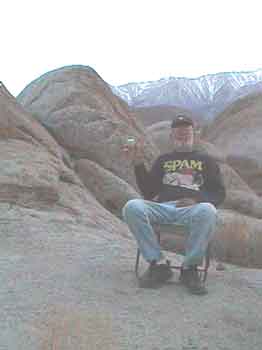 Here's to me!
Tacos and special wine and presents and cake with candles and sparkler!! The usual suspects out do themselves! Finally to bed. Ed says there will be cache within walking distance in the morning.
April 11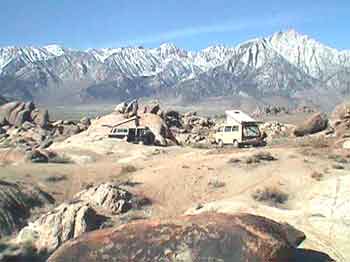 What a beautiful area.
We stay put for a change and have a late, easy, get-up and then head off looking for local cache. There should be two located within a quarter mile or less. "Alabama Hills" and "Bama Hills". The first one,
"Alabama Hills" we find with relative ease.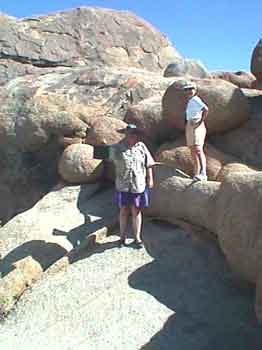 In fact it is Lolli's first find!!
The second one, "Bama Hills" has us scrambling up down and all around. There are many neat hiding places near the coordinates in this Joshua Tree type granite but no joy. After about forty-five minutes I give up and so do the ladies. Eddie hangs in. We head back to camp. About an hour later Ed calls in on the FM transceiver saying that he has found it. He said it was about 30 feet north of my GPS coordinates!
Ed brings the cache container into camp and we looked through the goodies. Later we all go back out to the site to put it back and see where it had been hidden. In hind site it was not all that difficult. Just well hidden.
Back to camp for some laying around and reading books. Suzanne is off doing another watercolor. I even take a nap. In the evening we have a couple rounds of Petanque.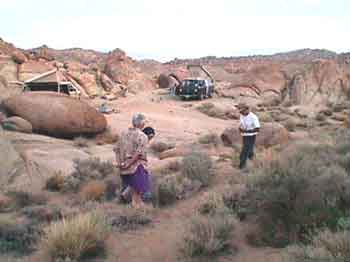 The ladies win the first game and us guys win the second.
April 12,
Up at 7:00 and start packing. There is a cache one mile north of camp.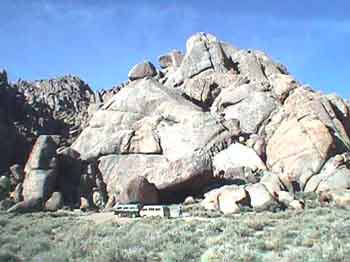 We park near some large rocks and go for a hike. We soon find the cache. Log in. On the way back Lolli finds some cochineal bugs on a cactus.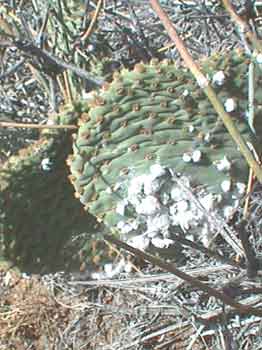 Unbelievably, the bug inside the white stuff, when dried and ground up, makes "No. 2" red die!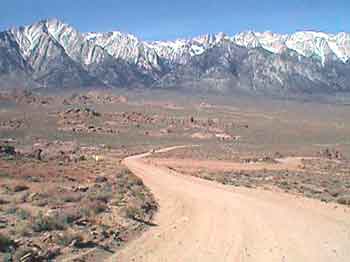 We drive down out of the Alabama hills. The Sierras are spectacular.
We swing through Manzanar, the Japanese internment camp ruins, left over from the 2nd world war. It is a sad bit of history but worth visiting; as the person who posted the "Manzanar Virtual Cache" intended.
Just out of Big Pine and west of Baker Creek Campground is our next cache. "Native Camp".
We park in Baker Creek Campground and enjoy our lunch by the dam.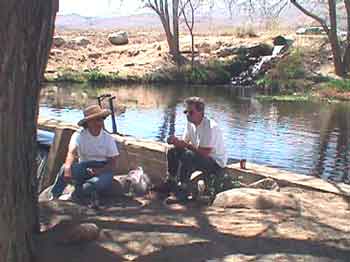 After lunch Ed and Lolli and I hike up alongside the creek towards the cache site. Soon Lolli drops out in favor of reading her book beside the still waters but Ed and I press on through the heat and brush. We get to the coordinates but after some searching discover them to be about 70 feet off from where I finally find the cache. We log in and sort through the goodies. The log book mentions that just above the cache site are some circular piles of rocks which are thought to have been piled together by Indians. Possibly blinds for game hunting? Ceremonial use? Hard to tell.
Back to the campground and get ready to move on. Next on the Geocaching schedule is "Yard Sale Expedition".
We end up following a county road northwest of Big Pine. When the coordinates get good we park at the base of a pile of rocks. Ed and I hop out with our Geek Bags and ponder the best way up. Ed goes up around to the left. I go up around to the right. We meet at the top and commence searching.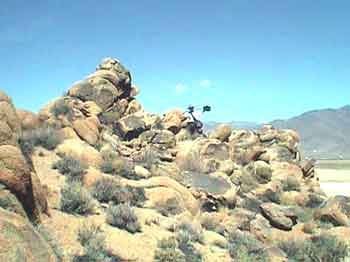 Ed finds it.
It is an ammo can with some interesting goodies in it. I take the space ship key chain to add to my Geek Bag zipper pull. There is also a plaster mold made from a multi-million year old, two toe-ed, horse tooth! Jeez! You never know what you will find!! I give it to Suzanne so she can share it with her class room kids. We log in, then scrabble back down to the Vanagons and the book reading, cool in the shade, wimmin.
Next?
I can tell that this one is going to be in the hot springs area by Mammoth and I am hoping it will be at a hot spring I don't already know about. I always like to discover new hot springs.
We reach the general area and finally close in on the coordinates but when we finally find the cache...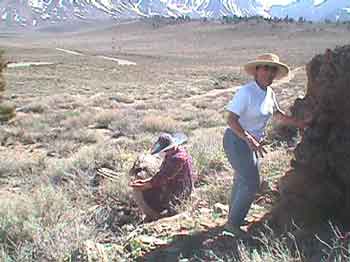 it is not at a hot spring but in a pile of rocks!
In hind site that is probably just as well. Folks enjoying a tub would probably not appreciate a couple of geezers wearing geek bags stumbling around looking under piles of clothes and damp towels for cache!
After we log in we take off for a hot spring I do know of in the area but soon discover that it is already well attended. We then drive off to the Crab Cooker. We discover that someone had left the valve on that one open and the water is way way too hot. It would probably take all night to cool off. We decide to skip finding a hot spring and press on for:
Another hour or so of driving and we are on the southern edge of Mono Lake. We park at the trail head for one of the volcanoes, grab the geek bags, and start hiking. This one is very interesting in that there are two trails. One goes around on the rim of the crater and the other goes down and then back up onto the plug of the crater. According to our GPSs it looks like the "Plug Trail" is the one we want to take.
We go up a series of switchbacks to get up on the plug and discover that it is made mostly out of Obsidian and Pumice.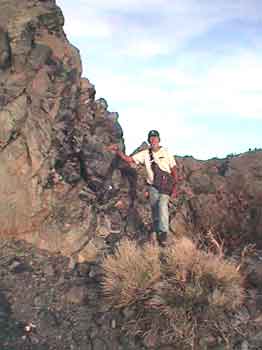 Very interesting.
We finally get to the cache coordinates and start looking under and around piles of rock and there are many piles of rock! No joy! Upon re-reading the details page we discover that a previous seeker also had trouble and when he finally found the cache he recorded the coordinates he ended up with and posted them. We tried out his coordinates and soon Suzanne hollered,
"I found it!".
Good thing too. The sun was going down and the wind was picking up.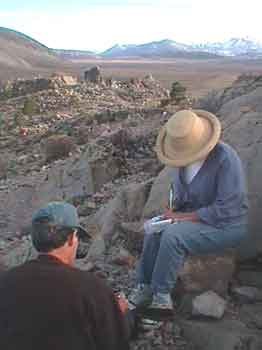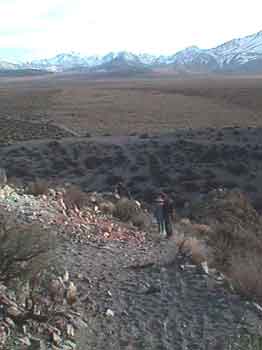 We log in.... and then beat feet back down off the volcano.
We have decided we are going to treat ourselves to a real sit down restaurant dinner in Lee Vining
in celebration of our six cache finds in one day!
Away we go.
After dinner we return to the volcanic area and pull off the highway a ways and call it a night.
April 13
We wake up in the shade of the volcano and it is 27 degrees inside my Vanagon! Forget making coffee. We immediately fire up the Vanagons and head back to Lee Vining for sunshine and coffee that is already made.
Today it is, "time to get serious about heading home", day. We drive up 395 through Bridgeport, Walker Canyon, Carson City, and on to Reno and then west on I-80 up over Donner Pass.
We get skunked by five cache along the way!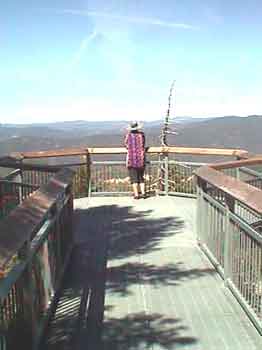 Our last attempt and only successful find is, "HWY 20 – Alpha/Omega".
We park and set out looking for this two part cache.

A two part cache gives you the coordinates for the first location
where you have to find the coordinates for the second location.
I find the first check point and locate the coordinates, which are hidden, for the second part. When we get to the coordinates of the second part Ed finally finds the actual cache.
This is a perfect team effort for the ending of what has turned out to be an
Alpha and Omega experience Spring Break.
Yes indeed.
It was the worst of times. It was the best of times.
We dedicate this Spring Break trip to our puppy Sarah who, over time, taught us how
to twirl in the desert and find sticks where none exist.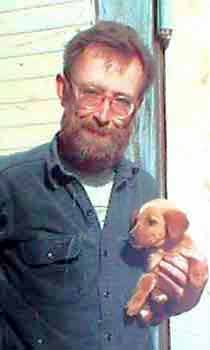 1985 ~ 2002