---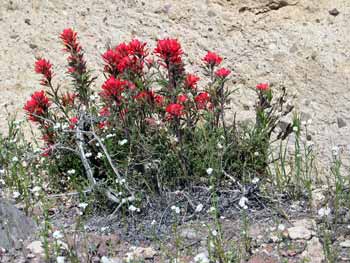 As it warms up the flowers just get better and better. Here is a nice cluster of Indian Paintbrush. It seems where ever the Paintbrush are located there are always little white flowers mixed in with them.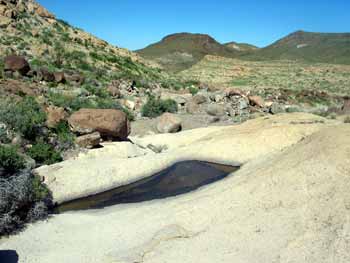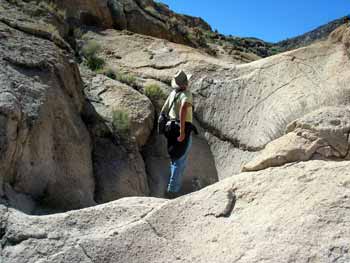 This past week I spent four days and hiked a total of twenty miles looking for an Indian cave I heard about. The location is kept quiet because it is a rather complete, undisturbed, site with Pictographs, metates, and obsidian chips. I was told there would be water catchment basins near the site. I found water catchment basins and various canyons that were, for me, dead ends because of dry falls. I searched the slopes of the surrounding hills until I got into such steep areas that I was starting to scare myself. I had to give up but I did get a lot of exercise!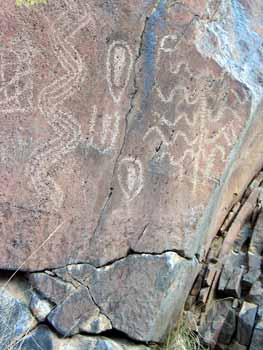 Along the way I did see petroglyphs.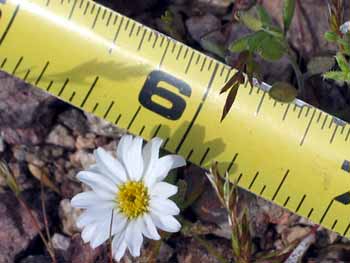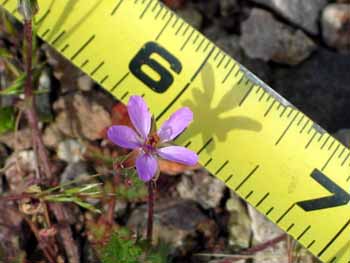 In various places the spring flowers are quite spectacular but I started to notice that almost everywhere there are very small flowers that go almost un-noticed! I got out my tape measure and photographed some of the varieties that are basically, underfoot!!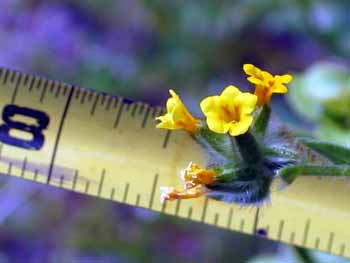 They are most amazing.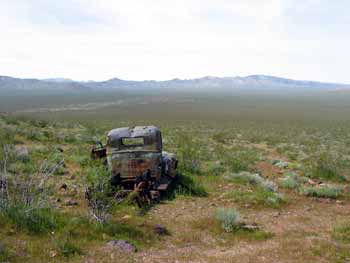 Driving along Furnace Creek road I noticed what looked like a small building way off in the distance up on the hill side. I drove within a mile and a half, got out my walking stick and fanny pack containing munchies, water and snake bite kit (I have not see one snake. Yet.) And took a hike.
I finally arrived at the "small building" which turned out to be an early nineteen fifties Ford truck. It had been hammered and vandalized and used for target practice but near the truck was the remains of a small mining operation.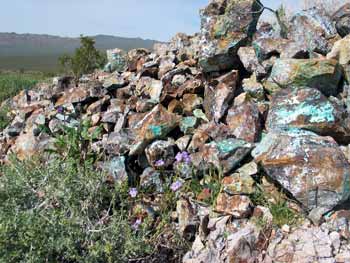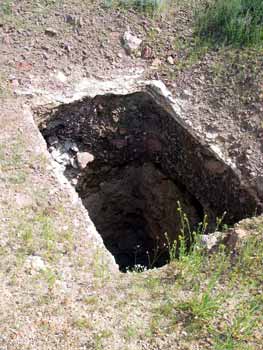 There were several mine shafts going straight down. Beside one was a pile of ore with a lot of copper content, the turquoise blue.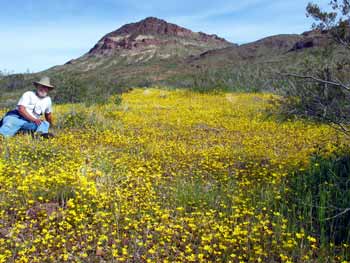 The hike to and from the Ford truck and mine site was rewarding with patches of more flowers.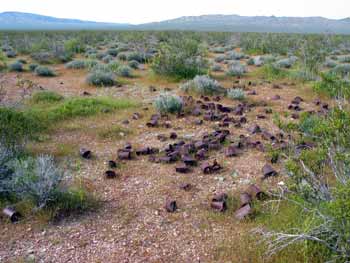 At various sites along the Furnace Creek road and almost any place where mining activity took place there are tin can dumps.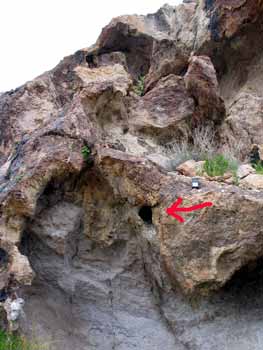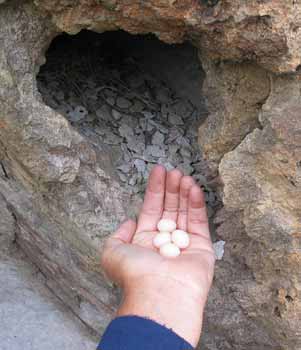 Back on the highway near Salisbury Pass I noticed an interesting rock outcropping with lots of holes and small caves in it. I hiked up to take a look and inside one hole (the photo on the the left with the red arrow) I discovered a bird nest made of small sticks. Inside the nest, these four eggs!! I took a photo of the eggs and then put the eggs back hoping the mom won't be discouraged from completing the incubation process.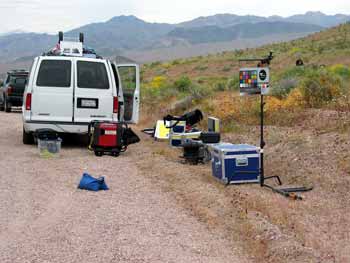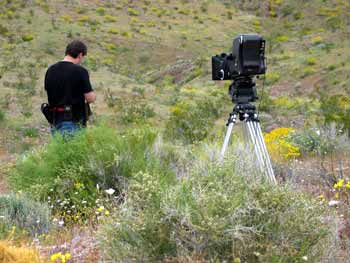 Back on the highway heading towards Death Valley I saw the flowers were even more spectacular than they had been several weeks earlier. People were pulling over to the side of the highway all along this area and wandering around looking at the flowers and taking photos. And then I saw some kind of film outfit set up with all their equipment, generator running, story board and huge camera on a huge tripod. A crew of people were involved setting things up and waiting for a sun break or better lighting. Probably, "Film at eleven" about the wildflowers in Death Valley.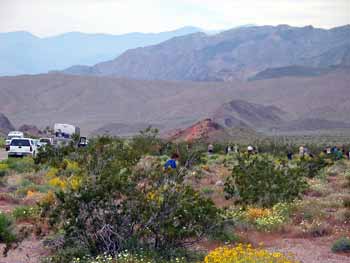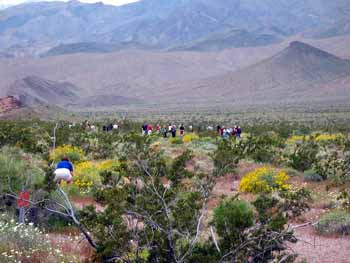 And just a bit further on there were more cars pulled over to the side and even a tour bus. Folks are coming by the hundreds, possibly thousands to see this once in a lifetime spring bloom!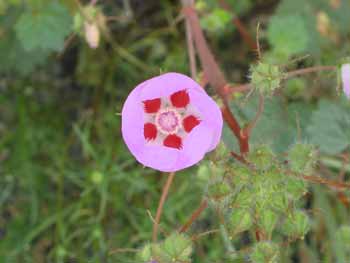 I decided to avoid the fray and return to Rhoades Cabin. I discover the Desert Five Spot are now blooming at this elevation.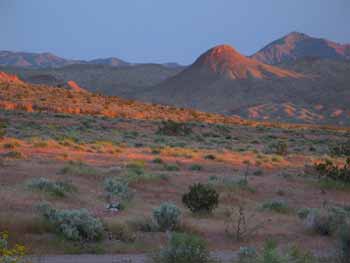 In the evening the sun peeked out over the Panamint Range and side lit the desert and hills by Rhoades Cabin. A beautiful, peaceful close to an interesting week.