December 29th
The wind picks up during the night and I lower the pop top. I toss and turn and listen to the wind and what I think is rain which turns out to be the flag flapping against the pole by the cabin. I worry that the bus battery is too depleted and the bus won't start in the morning and finally, I worry about whether we will be able to get up that sandy wash we drove down on the way in.
We wake to a beautiful sunny morning. Not a breeze in the air! Time for me to stop worrying and face reality!
The Vanagon starts just fine so I let it run for half an hour to recharge the van's battery and the laptops.
I finish the novel I have been reading and add it to the book collection in the cabin. Lolli does a bunch of computer work on her Textile History class and then we clean up the cabin, shut the window shutters and doors, pack up and head out. We go up the wash with no problem. All my worrying for nothing as usual! We swing by Tecoupa to freshening up, zip on up to Shoshone, take a right and soon are in the Mountain View Casino and Bowl, "All You Can Eat Buffet", in Pahrump, Nevada!
What a difference three hours can make; from a one room cabin near Death Valley to a
bowling alley/casino/restaurant full of people smoking, eating, bowling, and playing slots!
After brunch/lunch/dinner? We go to a Smith grocery store, stock up on groceries, and head off to look for the cache,
"Pahrump Pa Pum Pum". With a name like that we just have to find it!
I hop into the passenger seat again and plug in the laptop and the GPSr. Lolli drives. I see that the cache is south and east of town. We drive to the "Winery Road", take a left, and go up the hill towards a large white water tank. A couple of guys are shooting target practice but soon they leave and we park the bus in a level place and decide to stay the night. Nice view of Pahrump in the distance.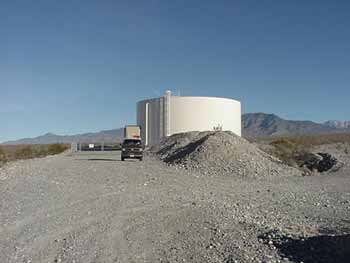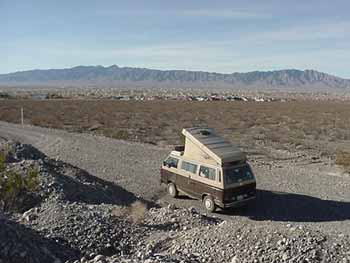 I go for a walk and find the cache. Bring it back and Lolli and I go through it. We takes the James Brown CD
and leave a rain poncho. Then I put the cache back.
December 30th
Cool and clear. Around 32 degrees. We wait for the sun to warm up the bus before I get up and make coffee. The plan is to
rattle into Las Vegas and check things out. Find the The Little White Chapel, the Court House, and a place to camp.
We take highway 160 from Pahrump to Las Vegas. Along the way we see a decorated Yucca.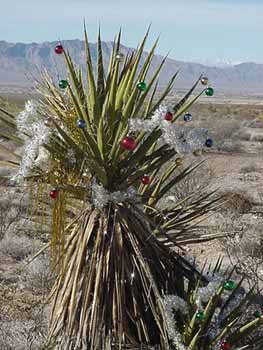 Stop, back up, and take a photo. Then over a mountain pass and down, down, and off in the distance…
there it is... Sin City! Lost Wages itself!
We become surrounded by civilization and stop and go traffic. At Las Vegas Boulevard we hang a left and take in the sights of "The Strip"!
Eventually we find the Little White Chapel, pull in, and park.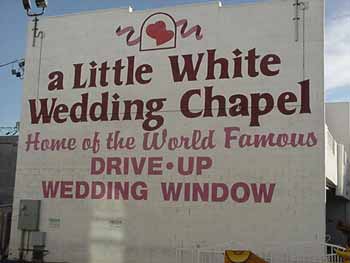 We announce our intentions and ask for directions to the court house. They draw a map and mention that the line will be long!
Away we go, find the court house, and sure enough, the line is long. The folks at The Little White Chapel told us they have another chapel right across the street from the court house, we can park there, and that there is a good steak and eggs restaurant at the
Four Queens Casino behind the court house.
We park, have a late breakfast at the Four Queens, then go get in line at the courthouse.
The red circle indicates Lolli holding our place while I take a photo!
After a little over an hour of waiting we arrive at the marriage permit office. There are six desks and six women processing marriage licenses!!
We fill out the papers and discover we don't need my birth certificate or Lolli's passport after all!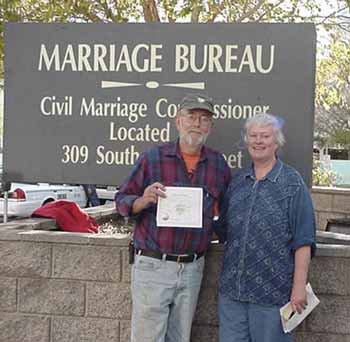 No blood test required either. Just pay the fee. Piece of cake.
Back to The Little White Chapel. We make a reservation to do the "Drive Through" at 1:30 PM, on the 1st day of 2003. No problem.
Time to find a place to camp for the night. We drive West out of Las Vegas on Charleston Boulevard. Towards the end of Charleston we finally leave the strip malls and the gated communities behind and enter real desert. I spot a small power line with a service rut going up an alluvial fan. I turn off the blacktop and rattle and roll about half a mile up the rut and come upon a nice flat area amongst the Yucca, park, and call it an evening.
We have a splendid view out over all of Las Vegas.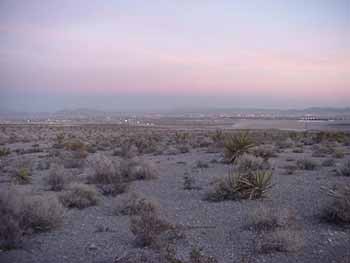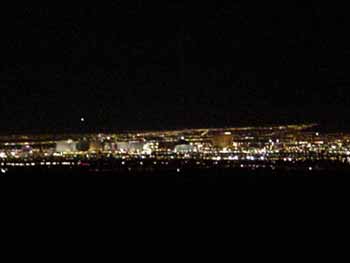 As night comes on the city lights come up. We watch airliners arrive and take off. One landing about every two minutes.
We have heard that there are 90,000 people arriving for New Years Eve!
We have cell coverage and so we call Lolli's mom, my brother, and Eddie. Eddie is in Bakersfield finding a cache but expects to get to ZZYZX or Baker by 9:00 PM tonight. He will then be in good position to make it to the Las Vegas airport by 2:30 tomorrow afternoon. Ed is our ring bearer and has been driving from Seattle for the last three days! His bride Suzanne, our flower girl, will fly in from Seattle tomorrow.
We will all meet at the airport.
December 31st *** New Years Eve
Lolli said it sprinkled during the night but I slept through it. Up at 7:00 AM. Sunshine and some scattered clouds,
a cloud bank over Red Rock Canyon to the west of us.
We drive into town and find a laundry matt. While the clothes go round and round we cook breakfast in the bus. I think Lolli is getting the hang of urban camping! When our laundry is done we head on to Las Vegas Boulevard and find a youth hostel only a couple of blocks from the Wedding Chapel. Four bucks for a shower. We tell them we will be back tomorrow.
Time to head for the airport. I have to stop and remove the barbeque and CB antenna from the roof rack area on the Vanagon before we can fit in the covered, short term, parking. We find a parking slot, park, and walk into the terminal. Alaska airlines from Seattle should arrive at 2:27 PM. Lolli and I grab a Starbucks and go to the gate where Suzanne will appear. I realize I should have my cell phone with me so I can contact Eddie and see if he has arrived yet. I go back to my bus, get the phone and, on the way back to the terminal, call Eddie. He answers and I discover he has arrived and is in the long term parking area and is walking towards the terminal as we speak! Perfect! Soon we spot each other. Then off to join Lolli and watch for Suzanne. Soon… here she comes. We gather up her baggage and confer on how best to escape the airport from two different parking areas in two different vehicles and still end up heading for the same campsite up in the hills west of Las Vegas.
We decide channel 22 on the CB is the way to go.
On our way out Charleston we stop at a Super Wally Mart for last minute supplies, then up the road to the old power line road to our camping spot. We get both Vanagons parked and level. Ed and Suzanne hop out, look around, and love our spot. We settle in and fire up the barbeque. Chicken and mashed potatoes and salad. Wine and… life is good. The sun sets, the night lights of Las Vegas come on, and the Stratosphere puts on a light show that it wasn't doing the previous night.
10:08 PM. Lolli is softly snoring in our beddie-bye. Ed disappeared back into his Vanagon; I think Suzanne coaxed him into the sack and so, here I sit. Me and my laptop writing this stuff while the wind blows and the lights of Vegas twinkle in the distance. I am drinking Pepper Vodka and may not last much longer. Happy Stag Party to me!! The plan was that we would watch the fireworks show over Vegas at midnight but I don't know if anyone will be up for it. Tomorrow Lolli and I become one… !!
New Years Day January 1, 2003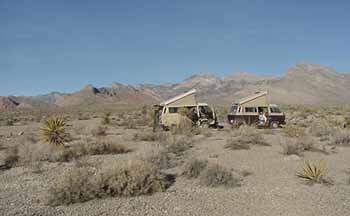 Up to a sunny morning in reasonable fashion. Ed had set his alarm for the fireworks show and evidently Suzanne and Lolli enjoyed it also.
I slept through it! Too much stag party!
Ed and Suzanne dig out of their Vanagon some surprises for us. They have decorations for our Vanagons, small bottles of bubbles, pull it-pop-its, a pair of very nice crystal Champagne glasses, and a felted wedding cake made for us by their son Mason which is a work of art. Our geocaching buddies, "The NC Flyers" of Fortuna, also sent some goodies and a best wishes card. Plus, Ed has put together a cache container named "The Wedding Cache". It contains a Bride and Groom travel bug and a bunch of wedding related type stuff in an ammo can. Way Cool! We are going to place it somewhere near Las Vegas the day after our wedding.
We pack up and head into Las Vegas. We park at the hostel just up the street from the Little White Chapel and walk up The strip to the chapel to see if we can change our appointment from 1:30 PM to High Noon. Since we have arrived early in town we want more time to celebrate after the wedding rather than have to split the day up. Ed places a micro cache at the Little White Chapel while we are there.
A Noon reservation is fine with the Little White Chapel folks and we hot foot it back to the hostel. The desk clerk gives Lolli the keys to two rooms that have bathroom/showers. Ed and Suzanne take one; Lolli and I the other. We shower, change clothes, and arrive back at the Chapel with only fifteen minutes to spare.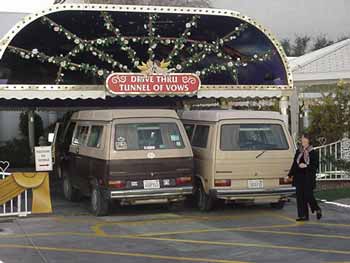 We decorate the Vanagons and then drive into the "Tunnel of Vows". I park by the "take out window" and Ed parks beside me.
The preacher appears in the "take-out" window.
We order the Protestant version.
Ed and Suzanne hop onto the back seat of our Vanagon to witness the ceremony and hand up the rings at the appropriate time. Neither Lolli or I wear jewelry but Ed and Suzanne have brought some nice stretchy type dime store rings for us. Blue for me, purple for Lolli. They are beautiful.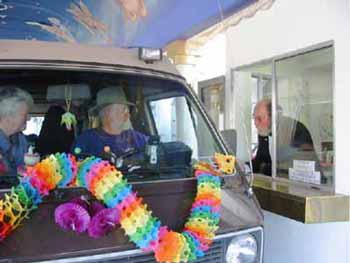 The preacher does his best and Lolli and I get sort of choked up with the solemnity of it all. To do a drive through wedding in Las Vegas is considered a lark by most but in the larger context it is an affirmation of our commitment to each other and although we have been partners for eighteen years… to hear each other repeat the wedding vows and have them witnessed and affirmed is moving. Hooray for us!
We seal our commitment with a kiss.
The wrought iron gate rolls back and we newlyweds drive out onto "the strip" with Ed and Suzanne following in their Vanagon. We go back to the youth hostel, Ed parks their bus, they hop into the back seat of our bus again and we head south on
Las Vegas Boulevard to do the grand tour of "The Strip".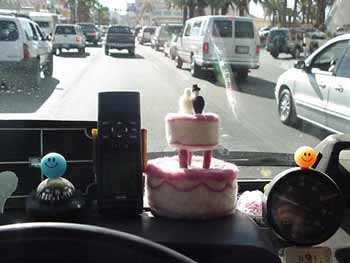 Our felt wedding cake from Mason leads the way!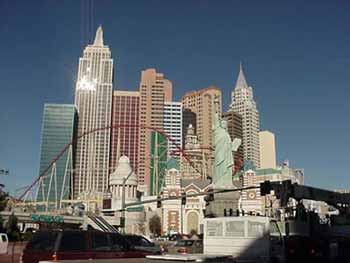 New York, New York! What can I say. It sure ain't a one room cabin in the desert!
Traffic is hectic. Ed wants to tag some virtual cache that are along the way but what with the traffic mess and parking problems it isn't easy. When we reach the heart of "The Strip" we turn into Caesar's Palace's covered parking lot and just barely fit the Vanagon into a parking slot. Next is the long walk trying to find our way back out to the sidewalk. To do it we have to enter Caesar's Palace and walk past miles of slot machines! Caesar's is huge and awesome and… well, beautiful. Thousands of people milling around and playing slots. We eventually find an exit door and join the milling throng on the sidewalks. By now we are hungry and we decided to find a buffet at some casino
but soon discover that every casino buffet has a long waiting lines.
We end up in the Flamingo Casino and discover a Lindy's restaurant that has a relatively short line. We wait only 45 minutes! While waiting we can see out the window a fifteen acre pond with gold fish, mallards, wood ducks, and Flamingos. Palm trees of course. Suzanne is happy about that!
Once we get seated we decide that this will be our main meal of the day and so we go whole hog. I have the prime rib and the rest of the group have the Tijuana chicken. All very good and expensive.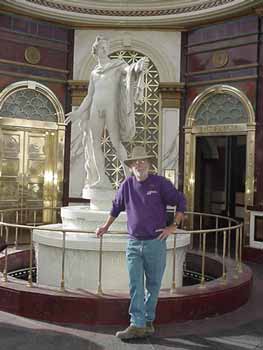 We stagger out of there and back onto the streets to rejoin the mob gawking at this, gawking at that!
We finally return to Caesar's Palace and commence the hunt for my Vanagon. By now the sun is going down and we decide to see how much it will cost to go up in the Stratosphere, a huge space needle like structure. I drive into the entry way and park causing the taxi and limo driver to go nuts while Eddie runs inside to price things. Finally he re-appears with the good news that, for us seniors, it is only four dollars each! He hops in and we drive around looking for a place to park. All the covered parking areas are too low for us to enter but I find a surface street parking place just beyond the huge complex. We lock up and enter the Stratosphere and start hunting for the ticket booth for the elevator ride to the top. We have to tread our way past a lot of slot machines to find it!!
We get in line to buy tickets. After we get our tickets we start our search for the elevator. The place is designed so we have to go through a maze of shops in order to get to the elevator area and at the elevators there is another line where we have to wait and wait and then empty our pockets into containers so we can go through a metal detector. After that there is another line at the elevators! There is a photo setup where we can have our group picture taken and superimposed over a view looking out from the top of the Stratosphere. We decide to purchase one. Only $13.00!
The whole party atmosphere of Las Vegas is designed to get us to spend money on things we hadn't even thought of buying.
Finally we enter the elevator with a bunch of other folks for the ride up the thousand feet to the restaurant and observation deck.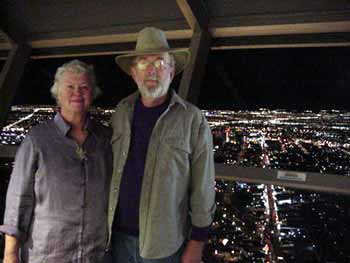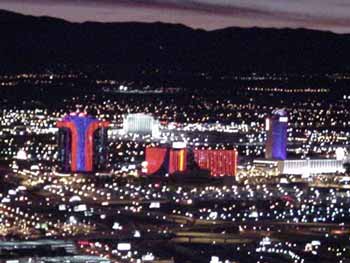 Really quite spectacular, once we get there; the structure and the view.
We walk around, take photos, and figure out where we camped the last two nights. We can see Charleston Road and the dark area beyond the last gated community. Out there! Out in the quiet of the desert, home sweet home! We also find the Little White Chapel down below on Las Vegas Boulevard. Enough. We get in line for the down elevator, return to my Vanagon, then go see if Ed and Suzanne's Vanagon is still in one piece.
All is well at their Vanagon. Lolli had read some handout about an aerial acrobatic show that takes place above the slots in the Tropicana. She wants to see that. Next show, 7:30 PM. If the traffic and parking isn't too much of a hassle we should make it just in time. Lolli also mentions that some ladies were talking in the hot tub in Tecoupa about how they always camp in the Tropicana parking lot when they go to Las Vegas, "The have the best security". We decide we will spend the night in the Tropicana parking lot too and so, when we arrive, we look for a relatively quiet and dark place to park. We find our place, lock up, and zip into the casino to find the show. Find the show we do and it is quite wild.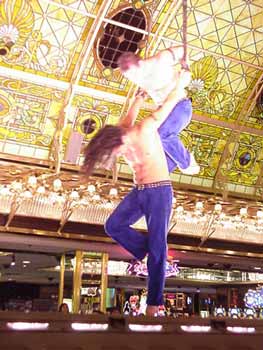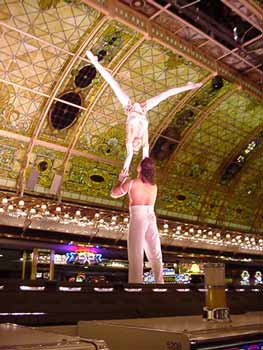 Aerial acrobatics and gymnasts. Well done and very entertaining.
We can't help it. We decide to play some quarter slots. I put a twenty dollar bill into one and give it a try. I win some, loose some. Soon I am down ten dollars from my original twenty. We move on and I randomly put some quarters into another machine and bingo, I win 180 quarters!! Pretty exciting hearing them hit the tray. Bing, bing, bing, bing! On and on!
I fill a paper cup with quarters and we go in search of some place to get a bite. We go from restaurant to restaurant in the casino. Each one has a long line. Down a hall we discover a small snack joint and I have fish and chips. Lolli has a salad and I forget what Ed and Suzanne have. I stack up my quarters and give Lolli, Ed, and Suzanne each ten dollars worth of quarters. What the heck, I'm rich now!
We go back for the 9:30 PM acrobatic show in the main casino and each of us find a quarter slot to play while we watch the show. Soon Ed and Lolli and Suzanne are broke but I am up another 150 quarters! I keep playing until I am back down to 100 quarters and then I cash out and we head for our Vanagons for a night of sleep in the parking lot. Big day! Not only did we get married but I won enough to recover the cost of the preacher!
January 2nd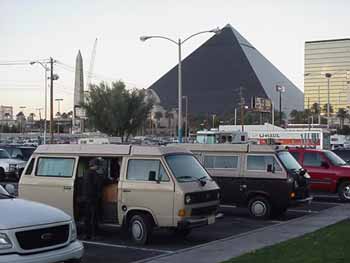 Up at 7:00 AM after a night of police sirens, ambulance sirens, and planes taking off but… we all slept rather well. Off we go to find a Starbucks for lattes and crumpets. Ed and Suzanne have to hit the road for home. We follow them south on I-15 a ways to find a place to hide the wedding cache. We want to hide it along the old original highway into Las Vegas. We take an off ramp over onto the old road but can't really find the right place. We pull off and take a group photo.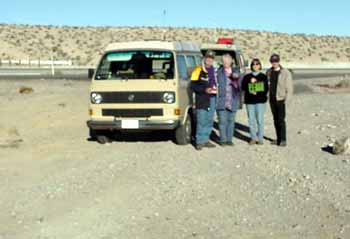 Ed and Suzanne head for home. Lolli and I take the wedding cache and promise to find a good place for it on our way back into Las Vegas.
Heading back towards the city we clear a rise where there is a first view of the city. There is a sage brush covered hill to our right.
We park and take the cache up there and bury it in the rocks on the crest.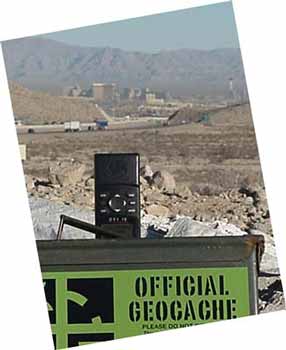 Good enough.
Back into town to Kinko's to do our wedding announcements. We work up the image and wording on my laptop and order 200.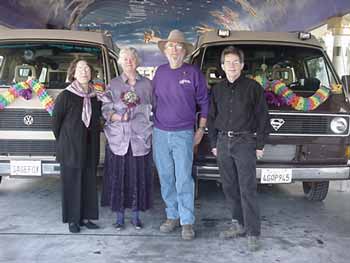 After 18 years we finally did it!!
Lolli and Ron
Were married in The Little White Chapel Tunnel of Love drive through
with good friends Ed and Suzanne in attendance.
At Noon on January 1st, 2003
In Las Vegas, Nevada
Wish us well. No presents please.
"The announcements will be ready around 2:00 PM." We go across the street to a brew pub for an excellent lunch.
Then, back to Kinko's.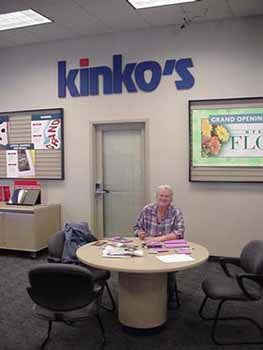 The announcements are ready so we grab a table, stuff envelopes, and addressed them. We are done by 3:00 PM. Off to a Post Office,
then groceries, a fill up of gas, and we are out of here! Bye bye Las Vegas.
By six in the evening we are soaking in the hot tubs of Tecoupa!
Back to the duck pond. Just like a week ago but now… we be married!
January 3rd
Up for coffee and over to the Tecoupa post office to mail more announcements. Next, off to the cottonwood tree to get some more firewood. This time we gather and cut up a fair amount for use at the cabin, then back to Tecoupa for a soak.
Next up, Shoshone, to fill the bus water tank. While I'm doing that Lolli goes for a walk and discovers an Espresso / Internet café. Not something one would expect in Shoshone!
And finally, back to our cabin once again. On our way we pull off the highway near a microwave tower by the Ibex turn off and talk to my brother and then Ed and Suzanne. My brother is already back at work and Ed and Suzanne are driving through Dinsmore and getting close to Williams. They will be home in Fort Bragg by evening.
Down to the turn off and then to the turn off up the hill to the cabin. It is Friday evening and I am wondering if some folks will already be at the cabin. We pick up some more firewood along the way and when we make the final turn in the rocks where we can see the cabin... yippee! No one there! After parking and setting up I read the cabin log book and by golly, geocachers Dr. Webe and The Ski Bum had arrived at the cabin the day after we left!! Some other folks arrived on the 30th and other folks on the 1st of January. Now it is ours again. Perfect.
I beat Lolli in a round of Petanque.
We have a great dinner of mashed potato and thin sliced pork steak, barbequed on my new barbeque. We enjoy the campfire and after dark the Kit Fox visits again. He comes within five feet looking for hand-outs!
January 4th
Relatively warm night and morning. Clouds form up for a while and kept the afternoon from getting nice and warm but not too bad either. Around 59 degrees. We read and lounge about. Lolli goes on a walk-about and gathers more firewood.
I fix the door to the outhouse. The hinges were coming loose. I also lowered the outside step a bit so the door would not scrape on it.
The flag pole needed straightening too.
There is an abundance of bullet casings lying around. I decide to make a chess set.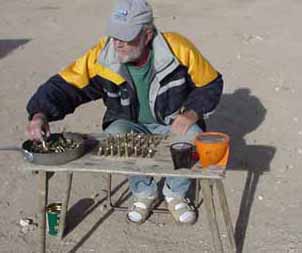 I use brass cartridges of various caliber for the base of each piece and a two part metal paste to shape the tops;
Pawns, Castles, Knights and so on. The frying pan on the left holds my assortment of shells.
Another round of Petanque in the afternoon and I just barely beat Lolli again. 12 to 12 but I got the final point! Perfect.
Lolli has spent most of the afternoon/evening working on her computer. 4:45 PM now and we are inside the cabin with the barrel stove going. Both of us working on our computers wearing our headlamps. It is still light outside but dark in the cabin even with the windows shutters open. The back of the cabin is almost against the dirt hill and so the cabin interior gets dark early. I bet summer time is a whole different story! I read in the log book of folks being here in July and they had to leave because it was nearing 125 degrees!
Tonight's menu is barbequed chicken with broccoli, mashed potato and salad dressing. Tomorrow night will be tacos,
according to the bride. That's about it. Back to my second novel by Jonathan Kellerman.
January 5th
A few clouds when waking at 7:00 AM but gradual clearing and full sun by noon. Even the solar shower bag gets hot enough to take nice warm showers in the afternoon. I finish my chess set of bullets while Lolli goes on some long walks gathering firewood. When Lolli gets back I decide to see if I can get to the top of a nearby hill. I head out with binoculars, water, and camera in my geek bag. I go up a wash that soon becomes a narrow cut up the hill side. I get quite close to the top but my route is getting too loose and too steep. My leg muscles start shaking. I don't do this kind of exercise often enough! I have to give up and head back down. Just getting turned around was scary. I did gather up a nice Ziploc bag of brick red dirt for Lolli. She has been gathering different colored dirt for some future art project.
Back to reading my novel while Lolli works on her computer doing textile history lectures. Then a couple of rounds of Petanque.
I beat Lolli both times. What I call a good game!
Tacos in the evening with the Kit Fox arriving to eat the last of our bagels. Last evening Lolli left the the dishwashing sponge out
and it disappeared! I think the Kit Fox grabs anything that has flavor on it.
We will be heading out tomorrow morning. Time to start wrapping things up. Nobody came by Friday, Saturday, or Sunday!
Another beautiful sunset.
January 6th
Up at 8:00 AM. Strong sunlight. Warm out. There were some strong wind gusts around the time we went to bed last night and I put the top down on the bus but now, outside of a random gust, it is an absolutely beautiful day. Unfortunately, we have to start heading for the barn. Current thinking is we will camp someplace, Firebaugh road? tonight and stop by Doug and Joy's in Sebastopol tomorrow afternoon/evening.
But for now... Lolli is propped up in bed reading and I am having my coffee and writing this. We talk about doing the hot tubs in Tecoupa but it is Monday and the tubs are closed from 7 until noon for cleaning. We are leaving some canned food, candles, an unopened gallon of drinking water, and assorted odds and ends for the cabin. I must find and bring a Sears and Roebuck catalogue for the outhouse next time we visit.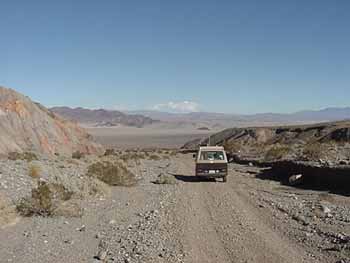 Packed up and away we go. Our wonderful vacation coming to an end.
We stop by Sarah's grave near Mojave and I remove the blanket from the sagebrush and put it in a dumpster in Mojave.
I don't like cluttering up the desert.
We camp at Firebaugh in the evening.
January 7th
Lots of fog during our drive up the central valley on I-5. We stop in Patterson for breakfast and a quick microcache find. We arrive at Doug and Joy's in Sebastopol. Showers, good conversation, a tour of their new additions plus they take us out to dinner. We spent the night camped in their driveway. Thank you!
January 8th
We arrive at Lolli's apartment in Mendocino at 2:30 PM. We unpack her stuff, kiss!!, and I head for Elk and Dingy Hovel.
We are now married but we still have our own lives.

Perfect!