First Year Wedding Anniversary back in Death Valley
We left Mendocino in easy fashion December 30th. I had told Lolli that I had to be at the VA Dermatology department, in Santa Rosa, by 1:45 PM. "I am leaving by eleven o'clock. Period!". She whipped things together and we left fifteen minutes ahead of schedule! A new record!
The 29th had been another day of hammering rain but the 30th turned out to be a rather nice sunny drive. We got to the Santa Rosa area early enough to be able to stop at Trader Joe's and buy some last minute treats for the trip. Then off to the VA to see Dr. Oh. Dr. Oh had taken a biopsy off of my neck, below my right ear, a month earlier. It turned out to be a pigment melanoma and now I was back to have the rest of it removed.
Dr. Oh was busy and I didn't get in to see him until almost 2:15 PM. Finally, he appeared and hacked a considerable chunk out of me! Two inches long and about half an inch wide and deep! He installed several stitches below the skin and eight stitches on top! He had Lolli come in so he could show her how to change the dressing. Lolli was a trooper. I thought she would pass out but no, she did great. We finally got out of there around 4:00 PM and headed for my sister and brother-in-law's in Dublin, east of Oakland. Traffic wasn't too bad and we arrived before 6:00 PM.
Del and Diane were home and Del had the barbee going. We did munchies and wine and conversation and soon had barbequed salmon, lettuce, and pasta. I had brought along my accordion which Diane wanted to learn to play for their church. She was expecting me to just bring it and show her how to play it, she didn't expect me to give it to her!
Off to bed.
We get up to a leisurely coffee and fruit cake and eventually sausage and eggs. We are looking at some beautiful wooden bowls Del made and Lolli indicates interest in turning a bowl!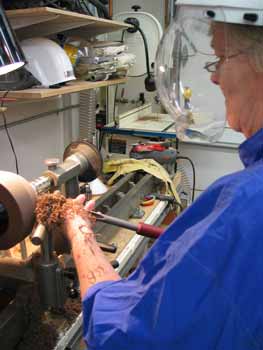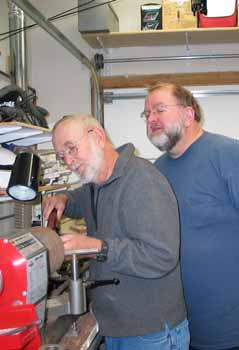 Soon Del had a chunk of Black Walnut chucked up in his lathe and showed Lolli how to turn the outside. It ended up Del and Lolli did the outside shape and Del and I did the inside shape. I then used Del's wood burner to write "Ron & Lolli 12/31/2003 Del & Diane" on the bottom. We call it our one year anniversary bowl and it turned out very nice.
We finally packed up and hit the road. Del and Diane followed us over to the local school playground to watch me fly my LazyBee radio controlled airplane but it was too windy so we said our goodbyes and hit the road. Yes, I brought one airplane along!
Some stop and go on the highway through Livermore but then up to speed and over Altamont pass. After that it was pretty easy sailing. I inserted the first of seven cassettes of the story, "The Adventures of Huckleberry Finn". The miles sure fly when listening to a good story.
We arrived in Bakersfield early enough to, "do Basque", and stopped at Benji's. It was 7:00 PM and their parking lot was full. It was New Years eve after all! The Hostess said there would be an hour and a half wait so we said no thanks and decided to go try someplace else. She then said she could sneak us in. And did!! The service was a bit slow but the food was great! I had rib eye steak and Lolli had Lamb. Perfect!
Over Tehachapi, through Mojave, heading east, I watched for a turn-off, found a dirt road, took it, and drove off far enough to get away from the highway noise.
January 1, 2004 Overcast and 44 degrees. I plugged in my laptop and GPS and loaded Sarah's waypoint. (We buried my dog Sarah here during spring break almost two years ago.) According to the GPS we were about half a mile east of it. Lolli walked towards it while I finished getting the Vanagon ready for travel and then drove over to it.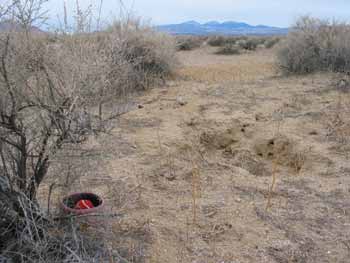 The dog dish was sitting right where we had left it. I placed a red tennis ball in it. She was a good old dog.
Back to the highway and east on HWY 58.. We stayed on the old highway that skirts the north side of Barstow and I took some photos at a wrecking yard that welds up cool stuff.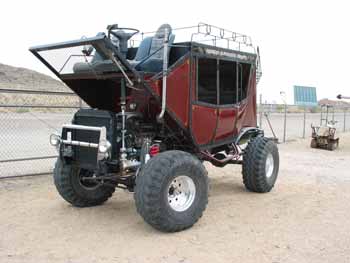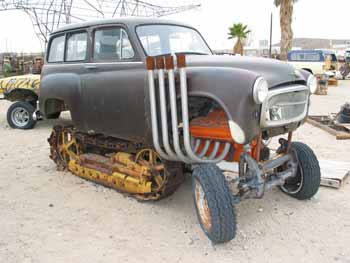 The sign said, "Come on in. take photos, leave tips here". I did and I did.
On to I-15 heading for Vegas. What a zoo. Gobs of cars and trucks and campers running in packs.
I kicked back to 58 mph and followed a semi.
An hour or so of that and we turned off into Baker. Another zoo. I had to wait in line for a gas pump to become available! Regular $2.149 per gallon! Then cross the road to the Mad Greek to get Lattes and Souvlaki for lunch. Another zoo. Lolli didn't return and didn't return. I finally went in and looked for her but could not find her in the crowd waiting in front of the counter. Finally she came back to the bus with the goods in hand. But hey! It is New Year's Day!
We are off and heading away from the madness. I was thinking of stopping at the dry lake where we fired the model rocket one time with Ed and Suzanne, maybe I could fly my LazyBee and have our lunch there but, by the time we got to the lake, a tail wind had come up so we just kept going and ate our lunch while driving. At the little Dumont Dunes there was a huge cluster of motor homes and campers and dirt bikes and dirt buggies whipping up a huge cloud of dust upon themselves. We marveled at how silly that looked and kept going, heading for the Hot Springs of Tecopa!
We arrive at the Hot Springs and by golly, they are open New Years Day! We grab our towels and go our respective ways. I have a shower and a soak and get my stitches clean and looking good. Back in the Vanagon Lolli puts some salve on my stitches and we head for the vast wilderness. Perfect.
I had the laptop and GPS hooked up and I had the site of the first cabin on the screen. Soon we arrived at the turn-off and could see a straight dirt rut going up the alluvial fan. We pondered whether we should try it or continue on and maybe go to the cabin we visited last year instead. Then I think that what with New Year's and the way the week end fell this time there are a lot of folks out and about maybe that cabin is occupied. We decided to give this cabin a try.
Up the rocky dirt rut we went. In places, where it crossed washes, it was pretty hairy looking but when I got to the actual crossing I was able to pick my way through and continue on. Recent tracks were evident. Up and up we went. Finally we entered a canyon and there was a gravel wash to cross. I decided to park and walk ahead to see if it was doable. After walking just a short way around the bend I saw the cabin up at the head of the canyon. I returned to the bus to drive on. Lolli walked. When we got close we could see several pick ups, a pile of wood, a propane light burning in the window of the cabin, and a tent. Two guys and two dogs came out on the porch as we pulled up. I asked them if they knew Dr. Webe and the Ski Bum. One guys hollered back, "We're leaving Monday". I repeated my question. They don't know Dr. Webe or the Ski Bum. We turn around and drive back down the wash. I bet they were surprised to see a VW bus!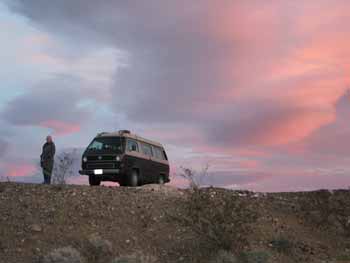 We drove back out of the canyon and onto a flat spot near a pile of talc that had a splendid view out over everything.
We set up camp and stayed inside the Vanagon because the wind was kicking up pretty good. We shared our bottle of Navarro Champagne that was given to us by Doug and Joy for our Wedding Anniversary. Good stuff. That and a great selection of munchies and cheese and crackers and smoked salmon well, we called that dinner, and just read our books.
Morning arrived and although it was rather cloudy it was very peaceful. The cloud features and sun play on the surroundings were so striking I spent quite a bit of time taking photos. Lolli went for a walk in the afternoon and of course I didn't think about our walkie-talkies until she had been gone for quite some time and I started to worry. I went for a walk and found her tracks. I followed her for a while but finally turned around and got involved with taking photos on my way back to the Vanagon. Pretty soon, she returned. She had gone quite a bit further out an old road and up to some mine where there is a mine shaft and some narrow gauge tracks. I decided to take a look the next day and take along my flashlight.
We settled in the Vanagon and had a munchies supper and listened to the last cassette of Huckleberry Finn.
First sunlight cleared the hill and struck the bus at 7:20 AM. 37 degrees. No wind. In fact, no wind all night! What a change from the night before! We went for a walk and Lolli laughed at me because I had my geezer bag, my walking stick, the water bottle, two FM transceivers, my headlamp and a flash light. Never mind. I planned to explore the mine. When we got to the turn-off to the mine Lolli took one radio and said she would continue walking along the old road to the west. I headed up the hill to the mine.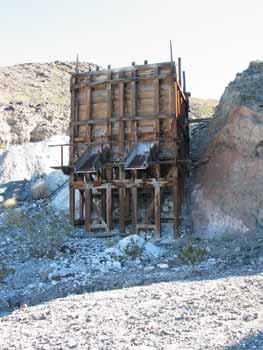 The loading chute was still intact. The narrow gauge rails still in place. Metal compressor piping. I walked into the mine.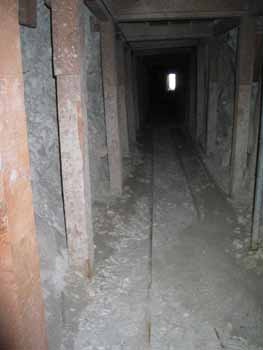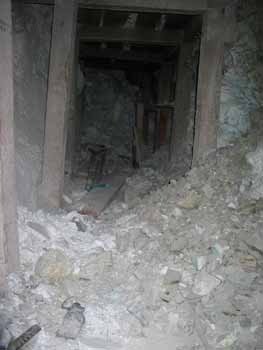 It went straight back a ways and I turned on my light. There was a room off to the left that had a ladder going up and a loading chute built into the wall with boards across the opening to control the flow. Further in the mine a spur to the right with an open door across the entry. That spur didn't go far. Further on two more spurs left and right with the main shaft continuing on. Then a dogleg to the right and back to the left. There was a place where there had been a fire and the overhead timbers and side supports were burnt through. I had seen enough and retreated.
(Later I was told there is over a mile of tunnels!.)
Lolli was returning on the road below, I joined her, and we headed to the Vanagon and settle in for book reading and tacos.
January 5, 8:28 AM I was typing on my laptop and by golly, here come three vehicles from the direction of the cabin.
"It's all yours! We're outta here!"
Then on down the hill they rolled! Nothing for it but to pack up and move on up to the cabin.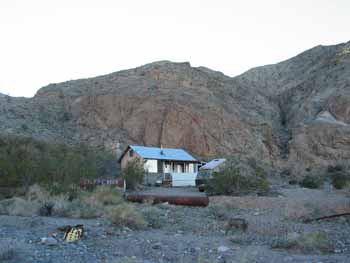 Arriving at the cabin I noticed it was bigger and more substantial than the one we visited last year. It had a rock foundation and concrete floor. There was an added on room with a shower and storage area. Tin roof, sort of an inverted, funnel style, freestanding fireplace that can not be cooked on. A sink, cupboards, some canned goods and water. Two beds, two tables, and four chairs. No bedding, one candle, a log book.
The cabin was not quite as shaded in the morning as I thought it would be although it was in shade by 2:00 PM in the afternoon. Probably a welcomed relief in the typical hotter weather.
Reading through the cabin logbook there was a lot of squawking about the vegetation at the spring and around the cabin. Evidently it was all cut back and burned a while ago. Some folks blame campers for cutting firewood, some claim what was cut and burnt was invasive plants, not indigenous to the area, and needed to be removed before it took over. The logbook also noted that quite a bit of wildlife had been seen here because of the year round water; Ring tail cat, Kit Fox, Big Horn Sheep, Rabbits, bats, owls, ravens, hummingbirds, sparrows, and other birds.
We lit some candles and enjoyed the evening fire but move back into the Vanagon for Dinner. The menu was spaghetti and to cook it we had to use the stove in the Vanagon and since we were cooking in the bus it was easier to eat in the bus too. Some book reading and we called it a day. To bed at eight. Up at eight. Twelve hours in the sack! That is the nature of winter time camping when it gets dark so early and light so late.
We woke to solid overcast skies but forty five minutes later it half way burned off. I turned on the radio to KGO to discover that there has been a big snow storm in Portland and Seattle! In San Francisco it is raining. Meanwhile... 41 degrees and clearing.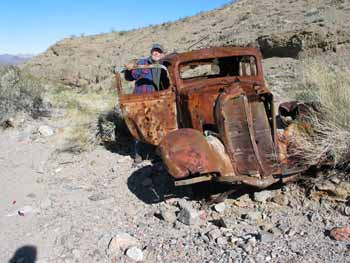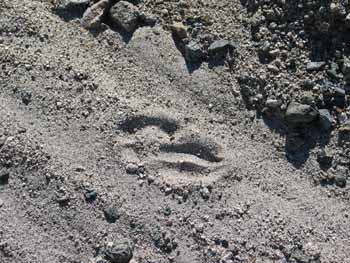 We went for a hike up the canyon. I investigated an old car, possibly a Dodge. Lolli found tracks of coyote and after that tracks of deer! Then Lolli spotted a Tarantula laying on the ground by a ledge.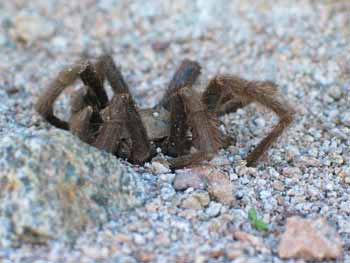 After looking it over I decided it was either hibernating, or dead. Its legs were flexible! Not desiccated and all dried out.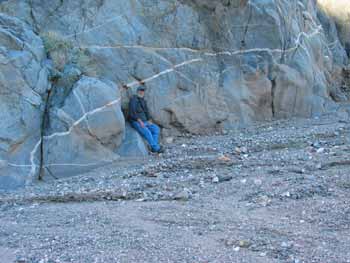 We stopped and took some photos of rocks with quartz stripes through them. We finally turned and hiked back down the wash to the cabin.
Overall we covered almost eight miles. It was a pretty good hike!
The cabin was in shade and rather than start the fire in the cabin we just elected to hole up in the Vanagon, read our books,
have some wine, cook dinner, and call it a day. Perfect.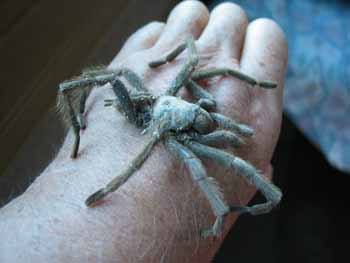 I took another photo of my Tarantula friend! Just to demonstrate the size, you understand!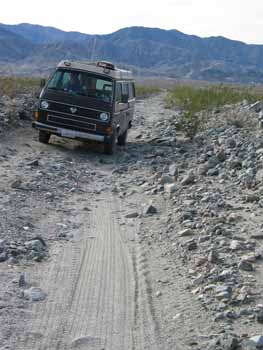 We greeted an overcast morning! Packed and left. It was time to re-supply.