Spring Break 1998
April 10th, 1998
For this Spring Break we have invited our friends Iren and Stefan to join us. We want to introduce them to our style of camping. Since they are from Switzerland, this should be a real treat for them; American style camping with bad roads, remote places, endless opportunities for break downs and skin of our teeth fixes. We agree to meet at their place to launch Spring Break 1998.
Friday evening we arrive at Iren and Stephan's, in Fort Bragg, for dinner and my birthday party. After the festivities, Ed and Suzanne decide to not spent the night. Since they already live in Fort Bragg they want to sleep in their warm bed at home and be able to have a shower in the morning. Lolli, Sarah the dog, and I hole up in ROADCOW for the night in the steadily falling rain. Iren and Stefan sleep in their house.
Saturday morning, while Lolli sleeps in the bus, I take her car to Safeway and get some last minute items for the trip. Then back to Iren and Stephan's. Ed and Suzanne have arrived in Sagefox. There is some last minute packing for Iren and Stefan; their small station wagon is packed to the limit. Finally, at 9:10 am, we roll out and head for the desert. Unfortunately Lolli is heading for San Francisco in her own car and her flight to Seattle. She is going to visit her mom during Spring Break because her mother recently spent some time in the hospital. She should arrive in Seattle at 4:00 pm but we have a long day of driving ahead of us.
We head out of Fort Bragg and take hwy 20, heading inland for Willits. Soon, too soon we hear Suzanne holler "Stop!" over the CB because of some flower she spotted along the way. We are only 10 miles into the trip! Oh boy!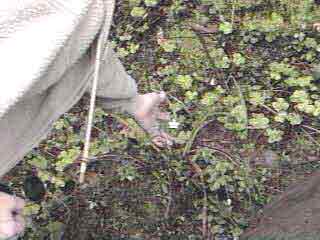 Yup! Sure enough. It's a flower.
In Willits, Stefan needs to stop for gas. We take care of that detail and then head down to Ukiah and the turn off to Williams on Hwy 20. There are overcast skies and some drizzle but the Red Bud is coming out.
We stop in Williams for latte's at Granzella's and then take the on-ramp to I-5 for the long grind south.
We yack on the CB, now and then. When we get south of Tracy I comment on how we have passed both Yuba City and Patterson; places where we have had breakdowns in the past! Not much further down the road Eddie comes up on the CB to say that Sagefox is experiencing some jerking and loss of power. We pull onto an off ramp, stop and ponder the situation. We wiggle some wires and let things cool off, then resume the journey. This continues to happen, off and on, along the way. Eddie is not a happy camper but the problem seems to abate over time.
We arrive in Bakersfield and I lead the group to the Basque Restaurant, Maitia's. We arrive at 7:00 pm and discover that Maitia's is closed, boarded up, and for sale! Now what?
I remember the location of another Basque restaurant over by hwy 99 and off we go. We drive south on Union street and just before the on ramp to hwy 58 we see another Basque restaurant, Chateau Basque. We pull in and after a bit of hunting for the front door, enter and have a fine dinner. Light rain is coming down when we step back outside.
We load up in our vehicles, jump onto hwy 58 and head for Tehachapi, up into the fog, rain and cold. Visibility is very poor. Finally we are over the top of the pass and rolling down towards Mojave. The rain stops, the full moon is trying to peek out through broken clouds. Down, down, and out of the rain and into the cool desert and wind. We drive through Mojave and head east. About five miles out of Mojave we start looking for a place to call it a night. We can see little low hills off in the distance to the south. We find a dirt road and take it. Soon we come to a wide enough spot for our three vehicles.
Iren and Stefan elect to sleep in their car so we unload their stuff onto the front seats of Roadcow and Sagefox. Soon we are all holed up for the night. The wind is gusting but we are all snug in our beds.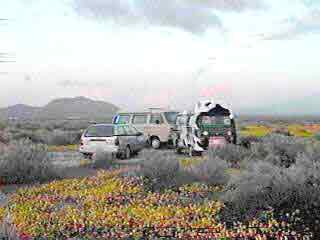 We wake in the morning to a setting moon, surrounded by California Gold!
Thousands and thousands of flowers!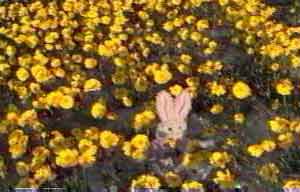 .
There is even an Easter bunny peeking out of the flowers!
We have breakfast and walk about admiring the view but soon a rain shower arrives. We pack up and hit the road.
Just before the 395 intersection Eddie had some more trouble with Sagefox. We stop at the gas station in Boron and Eddie gasses up and fiddles with the wires. Soon we are out of there and off to Barstow. For some reason, that was the last of his troubles.
In Barstow we do some final shopping at Von's and then we decide to head south for Joshua Tree rather than on to Baker and north to Tecoupa. The skies to the north have dark clouds that don't look very inviting.
South it is and we finally pull into the town of Yucca Valley and then head east to the town of Joshua Tree and then on to 29 Palms. We continue on looking for the Gold Crown road and finally find it. We turn off and travel up the sandy washboard road. Some places are soft and rutted and are of concern to Iren and Stefan in their low clearance vehicle. I go on ahead in search of a campsite with a view out over the whole valley, find one and, via CB, tell them to "come on ahead". Soon they arrive but when they see the last bit of road up to my vista, they elect to not try it and so we wind up camping in a lower spot with not so much view but quite nice all the same. Lots of flowers around.
Soon the VW's are set up, Iren and Stefan's tent is up, the lawn chairs are out.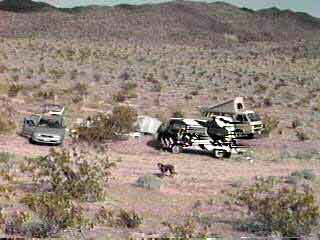 Perfect.
I had received a child's toy, for my birthday, called Mr. Potato Head. Soon I had him assembled and set up on a rock outcropping, off in the distance, just sitting there and staring at us.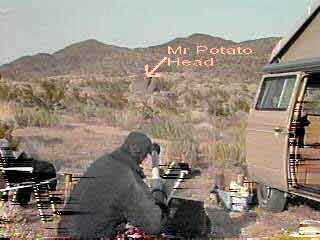 Only one thing to do. I get out my recently built potato cannon. Soon we commence firing. Eddie and I keep taking turns and there are a few close shots but we can't seem to hit him. Mr. Potato Head will live on for another day.
We stay the night and the next morning Ed and Suzanne take Iren and Stefan off in Sagefox to visit Joshua Tree. I and my dog stay behind to keep an eye on the vehicles, get some sun, read a book and assemble the model rocket Suzanne and I bought in Mendocino before the trip. I'm not much for visiting park visiting centers where there are a lot of tourists and "Dog on Leash" signs.
Ed and company return in the early evening after visiting Barker Dam and various other points of interest in the Joshua Tree National Park system. Soon dinner is cooking and we are once again firing spuds with the potato cannon at Mr. Potato Head. Again, he lives on. After dinner we fire off the model rocket a few times. It works spectacularly and returns via parachute.
Perfect.
Iren has brought along her collection of stuffed bunnies and has been introducing her bunny friends to the various items of interest in the vast wilderness. Flowers and what not.
Tuesday we break camp and head back into 29 Palms for more ice and gas. Then out of there to Amboy, population, maybe 10, and then Kelso, population 0! We had to stop and watch the trains go by in each place; Eddie is a big fan of the railroad. Then on towards Baker and soon we are looking for a place to camp. The wind is back up and it is rather cool. Around 4:00 in the afternoon we try a few dirt road turn off's and the third one works. We drive about a mile down a sandy road and set up camp beside a small hill of rocks. We park the busses nose to tail and wrap a tarp between them to close off the gap and cut down on the wind. Soon we are settled in. A beautiful spot and again, gobs of flowers, even flowering cactus. Eddie heads off to climb the ridge to the east and about forty five minutes later we can see him up against the sky line.
Later in the evening there are several attempts to blow Mr. Potato Head away with the potato cannon but though there were several near misses; Mr. Potato Head lives to see yet another day. We are still trying to sort out the correct fuel to air mixture in the potato cannon.
Soon Iren and Stefan are putting together a wonderful smelling dinner. Last night I cooked mashed potatoes and pan fried steak. Just as I was finished I discovered that Ed and Suzanne do not eat steak! Oh well. More for us! They did have chicken parts left over from their Nook Mom chicken feast from the night before. This time it turns out that Iren and Stefan have cooked rice and have thin sliced beef to dip into a Fondue pot. This turns out to be another Ed and Suzanne no, no! I offer them a Velveeta sandwich with Spam.
"Yuck!"
Picky. Picky.
We have an evening campfire but it causes a lot of eye watering from the smoke. We have some fudge for dessert and get ready to call it a night; dark clouds on the horizon to the south west. We do see two satellites heading on a collision course. It looks like they will actually hit each other, but no, they combine for a split second and continue their separate ways! I have never seen that before.
We wake to semi cloudy skies and all the dark clouds are now off to the north. I find a Las Vegas station on the radio that prescribes rain showers in the afternoon and improving weather towards the weekend. Oh well.
We break camp with light sprinkles coming down. We roll out and head back to the blacktop and then on to Baker. We stop in Baker for gas and a latte for Ed and Suzanne. Out of there and off to Tecoupa. Rolling right along we come upon a dry lake and drive off the hwy to inspect it and launch a rocket. Ed does the count down, Suzanne fires the rocket and I track it with my video camera.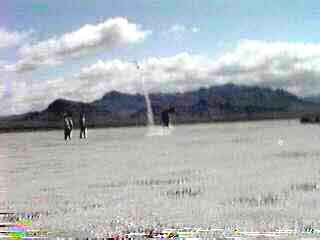 Launch!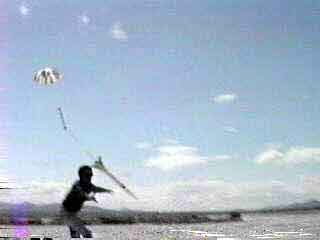 Ed does the recovery.
We hop back into the vehicles and head on up the road and up the hill into Tecoupa. We get there right at noon and find that the hot springs have just reopened from their daily cleaning.
A little over an hour later we are all clean and greatly refreshed. I had heard rumors that the status of the hot tubs would soon be changed. Changed from a free, county run, facility into some sort of commercial establishment. I sure hope not. So far, so good.
The sun has been shining but a passing cloud starts sprinkling rain. We load back up in the vehicles.
On to Shoshone. We stop at the market, fill up the water containers and do some shopping. Now off to show Iren and Stephan the old caves the miners dug into a dirt bank to make their homes. Soon Iren's bunnies are jumping up and down on the old bed springs left in a miner's shack.
Then on up the road for the turn off to Jubilee Pass. Over and out and down and down into Death Valley. After we arrive at the bottom we stop at the Ashford mill to show Iren and Stefan around and take some photos of each other standing in the windows of the old adobe building. I discover a stash of firewood someone left and "borrow" it.
We drive on up the valley floor to the turnoff for the West Side road. I take the lead and zip on down the washboard road to the old water tanks, hoping that the place would not be filled with horse trailers and trail riding enthusiasts like it was last year. I arrive and no one is there; in fact it looks like very few folks have been here recently at all. I pull in and park by the bushes and soon Iren and Stefan and then Ed and Suzanne arrive. We circle the wagons and set up camp.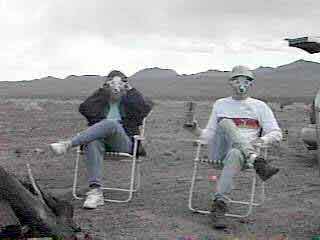 Oh good. The cow people are here!
The weather is getting more perfect all the time. There is snow on Telescope peak and the ridges to the north and south of it.
We soon discover that Mr. Potato Head is sitting on top of one of the water tanks. We set up the potato cannon.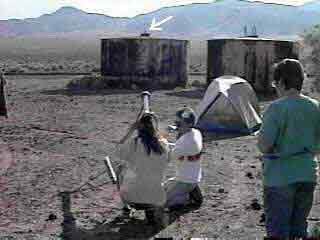 Iren takes aim. Ed helps. Suzanne has a moment of silence
for the safety of Mr. Potato Head.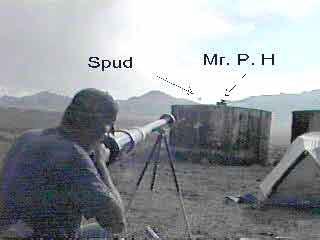 My turn!
The cannon has just fired and you can see
the spud arriving in Mr. Potato Head's vicinity!
Close but, no cigar!
Finally, even Suzanne take a shot. Again a close miss but Mr. Potato Head survives.
Our attention begins to wander.
We cut the base out of the plastic nose cone to the new model rocket and discover that one of Iren's bunnies fits inside very nicely. Soon the launch of "Bunnie-1" is underway.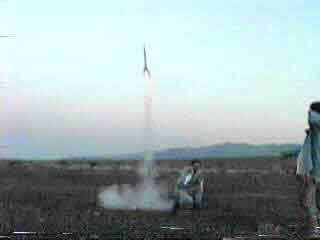 We have a very impressive launch and achieve record altitude.
Then watch as the bunny arrives back on earth unscratched.
YES!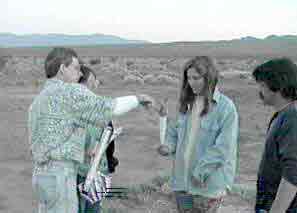 Ed checks the bunnie's vital signs.
A-okay.
With a warm evening coming on and a slight breeze passing by we are soon into the wine and playing a game Stefan brought along with him. It is called "Petanque" (Pronounced "Pe-tAnk").
Two teams of two partners with three aluminum balls each. There is the Cochonette "Little Pig" which is a small wooden ball that is first tossed out 6 to 10 meters away. Then each team tries to get their aluminum balls closest to the pig.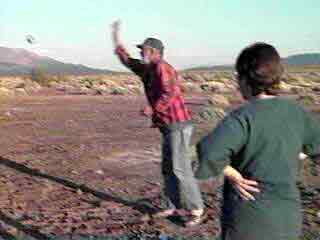 Yours truly, "The Old Fart", gives it a try. Suzanne looks on with amazement that someone so old can still have such good form!
The game ends when 13 points have been reached. Stephan and I beat Ed and Suzanne.
What I call a "Good game".
We enjoy a fine dinner and evening campfire and finally decide to do a night launch of the rocket. We have a spectacular lift off and I try to track it with my spotlight. I can't follow fast enough and soon lose track of it. Eddie and I head out in search of it with the spot light but cannot find it.
Morning dawns clear with a temperature of 58 degrees. Soon it is into the 60's and now at 9:30 am it is 70 degrees. Ed and I go on a massive search for the rocket, walking all the area that we thought it might have come down in. Nothing. Then we start expanding our search into less likely places. Finally I find it on the completely opposite side of the camp in an area we would have sworn it didn't come down in. What a surprise!
After breakfast we decide that Ed and Suzanne will take off with Iren and Stefan to go "do" Badwater, Artists Pallet, Furnace Creek and so on. Check out the tourist spots. I will remain behind and set up my 11 meter antenna for a try to contact my friend Joe, down in L.A., on 11 meters during his lunch break between 11:30 and 12:30. I will then pack up and head for Panamint Valley. The plan is to rejoin at the low hills at the north end of Panamint.
Ed and company take off and about an hour later I happen to catch them on the CB on channel 22. They are approaching Badwater on the opposite side of the valley. I can barely see them through the mirage with my binoculars!
Anyway, I work the 11 meter frequencies, trying to find someone talking to Joe. I'm working "skip".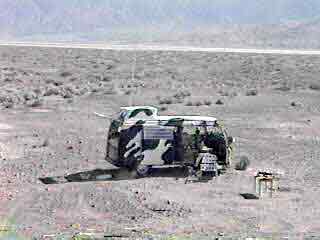 No luck. I do hook up with someone named Otis, just outside Perkins, South Carolina. He is coming in like he is sitting in the passenger seat beside me. I talk to him three different times. During the last conversation I tell him that I will send him a post card from Death Valley. He said he didn't have a PO box and so he would write to me first. We'll see. (He never did.)
I did hear folks from Puerto Rico, Argentina, and Belize but couldn't reach them. Still, not bad considering I am 200 feet below sea level and surrounded by mountains.
The wind comes up while I'm messing around with the radio. The temperature is up to 85 degrees by 1:00 PM. I break camp and head for Panamint Valley.
I drive back out the West Side road to the pavement and then north past Furnace Creek and then on to Stove Pipe Wells. I stop at the store and buy ice, a Tony Hillerman book, and a post card for Otis. Then up out of Death Valley and down into the Panamint. I take the dirt road to the north end and the low hills. When I get there I discover that our friendly park service has closed the side road up into the little hills (Gotta protect the environment, ya know. Put all our trash in Mexico).
Some folks are already camping close by. I park a ways off and wait for Eddie and company to show up. In about forty five minutes, they do. We gather for a conversation. What's plan B?
We decide to head back to the highway and across the valley and then take the hwy south towards Trona, see if anything looks good along the way. Ed and Suzanne lead off and on their second attempt they find a dirt road heading up the hill to the west and we take it. Soon we come out onto a spectacular plateau with lots of Desert Five Spots and Desert Trumpets. We are back into the good old BLM country! Good enough.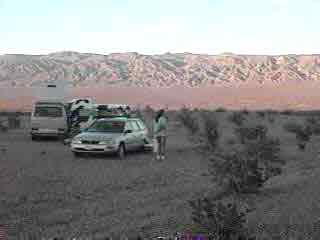 We circle the wagons but it is windy and cool.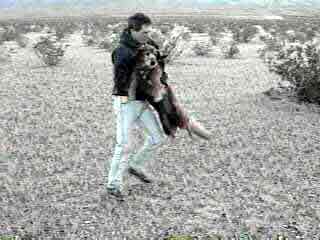 We do manage to get in a bit of "Dog Twirling"!!
In the morning we have a lazy get up and then hit the road once again. Back up to hwy 190 and over to Keeler. We tour the town of Keeler and visit the Post Office, write some post cards. We look up towards Cerro Gordo and think of Jody but it looks like the snow would be too deep.
On to 395 and then up into the Alabama Hills where a lot of cowboy movies were made. We drive the Movie Road and have lunch. Then on to Manazar. Then north to swing by the former Hilton Hotel for Eddie; his great grandfather built the place! Then I take over the lead and head for the hot springs. The "Lobster Pot" road was snowed in and impassable. We head back to the first one called "The Tub". Some folks are there but they say they are leaving soon. We pull in below the springs and set up camp. Snow is still on the ground around the camp in the shady spots under the sagebrush but the sun is strong and comfortable feeling. Spectacular snow covered mountains all around. We drain and clean the pool and refill it. By sundown we are soaking in the tub and surround by beauty. Perfect.
It is cold during the night but no wind. The thermometer in my bus says 28 degrees when I wake up. I find I have an ice sickle about 8 inches long hanging off my ice box drain under the bus! The dog water is frozen. I check the hot tub and discover that the pipe has come loose during the night and the hot water is not going into the pool. The pool temperature is down to 81 degrees. I drain it, again, and then, after fixing the pipe, refilled the tub. It takes a while but soon we are soaking in the tub again.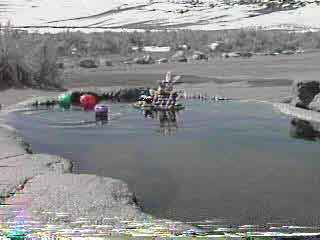 Even the bunnies go for a sail on a dinner plate!
Plastic Easter eggs floating nearby.
Between soaks we finally whacked Mr. Potato Head but it took a stealthy Eddie in full camouflage, at close range. Also, since no one would eat my fresh can of Spam I had brought along, I opened up the can of Spam and formed up a solid slug of raw Spam to load into the cannon. Hopefully it will do the job!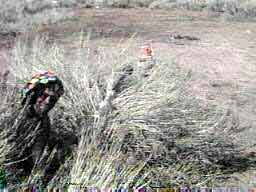 Eddie in full camo, getting ready to aim. Mr. Potato Head, in the upper center of the picture, innocently sitting on a rock.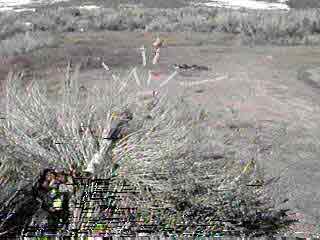 Direct hit! Parts go flying!!
YES!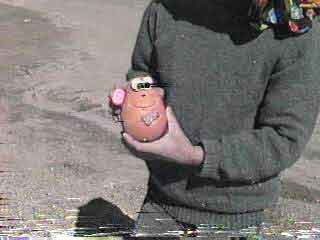 We find Mr. Potato Head with a Spam grin on his face!
Cool!!
Finally, Mr. Potato Head is no longer grinning at us! Obviously vacation is winding down.
Ed and Suzanne elect to hit the road after a final soak. They want to get home Sunday to prepare for Monday. Iren, Stefan and I are going to remain for a while and then head towards Mono Lake and possibly the Travertine hot springs this afternoon. We don't have to be home until Monday.
In the late afternoon we pack up and head for Mono Lake and when we get there visit Navy Beach on the south side of the lake. Then back into Lee Vining. Then up over the hill to Bridgeport and the Travertine hot springs. New signs proclaim "No overnight camping". We walk around and I show them the various springs but we decide to head on.
We drive through Walker canyon and see all the evidence of the big flood that happened two years ago. It is all repaired now. We find a camp site just beyond Walker canyon and call it a night. We camp in a county "borrow pit". Not beautiful but lots of firewood lying around.
In the morning we zoom on into Carson City and then Reno for our first hit of civilization, traffic, and urban sprawl. We take the I-80 turn-off and head over Donnor Pass, then turn off onto the slower hwy 20 for our road back home. We arrive in Ukiah towards evening and decide to spend the night at our friends Doug and Jan's property in Redwood Valley. Monday morning we are back home on the coast by 11 am.
Another successful adventure under our belt. Lolli is back from Seattle and her mom is much better. We found all of Mr. Potato Head's parts. Spring Break 1999 is only fifty one weeks away.