I have been in the depths of Volkswagen hell trying to get ROADCOW ready for Spring Break. The ol' trusty bus hadn't "mooved" a foot since our trip to Baja last Christmas/New Year. I finally had it towed to the Elk Garage, pulled the VW engine (Pre Toyota) to assess the damage. I found the crack in the engine case, as expected, and thought about buying a new case to wrap around the innards. As an after thought I decided to pull the heads and see how they were doing. I discovered both cylinder heads were cracked between the intake and exhaust valves. The valve seats were loose and it is amazing we made it back from Baja at all.
I just happened to have a spare bus that had been used as a office by a friend of mine for several years and since he had recently moved into better surroundings and didn't really need it any more I towed it to the Elk Garage and pulled that engine out too.
This particular bus was one that had belonged to some folks from Kentucky. They were traveling along the coast near Greenwood/Elk when the fuel line broke, setting fire to the engine compartment. The carburetor was melted into a puddle of aluminum along with the generator, fuel pump and all the wiring. The battery was a sorry mess but the basic block and heads were okay. I had repaired it enough to make it into a running bus just before it wound up as an office..., till now.
So, out with that engine too.
Between the two engines I had enough parts to make one "good" engine with an unknown number of miles on it plus I had a pile of parts left over. I installed the "new" engine.
ROADCOW now starts. It runs. I guess it will make it to the north end of Death Valley and back during our upcoming Spring Break.
"Son of ROADCOW, part two" the Adventure Continues.
Ah Volkswagens. Why do I love them?
---
April 22nd
Lolli, Ed, Suzanne, and I have just returned from our annual Spring Break vacation. It was spectacular as all trips, involving VW busses, should be. The first night we attended a Beer and Garlic bash in Mendocino. We fortified ourselves for the upcoming trip and finally just crawled into the busses and camped for the night. Maybe too much garlic?
The next morning, after sufficient quantities of coffee, we are ready to go but my bus wouldn't start; dead battery. No problem, that is why I carry jumper cables.
Of we go to Ukiah. We stopped at our friends, Doug and Jan, for a short visit. Finally, ready to leave, my bus won't start; dead battery. Well, enough of that! Off to the battery store. I knew I should have replaced that battery before I left home. With the new battery installed we headed east on Highway 20. We were finally off on the official portion of Spring Break.
About one hundred miles into our vacation, as we approached the first stop light in Yuba City, I noticed the oil pressure gauge start to fluctuate. I called Ed on the CB and told him to find a place to pull over, quick! We pulled into a bank parking lot and got out for a look. The first thing I noticed was the trail of oil leading up to where I had parked. I looked under the bus and there was a growing puddle as oil drained out!
End of vacation. Why oh why did I ever cast aspersions on Yuba City.
Now what?
After laying on our backs a while and pondering where the oil seemed to be coming from, Ed and I decided it must be the main crank oil seal behind the flywheel. Lolli and Suzanne made coffee on the Coleman stove while Ed and I went over to a Jiffy Lube Shop to talk to those folks and see if they knew where we could get equipment and parts. We got all the information we needed from them and headed off in Ed's bus to the recommended Foreign parts house to buy the oil seal and then to a tool rental place to rent a transmission jack.
Back to the bus.
I added a quart of oil to get us over to a vacant blacktop road next to where a farmer was busy disking a field. We parked the busses and got out our tools and the tranny jack. Suzanne and Lolli got out their respective novels and folding chairs. Ed and I attacked the bus.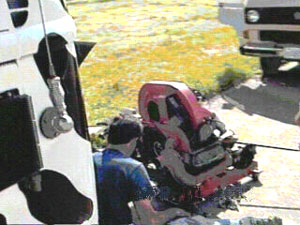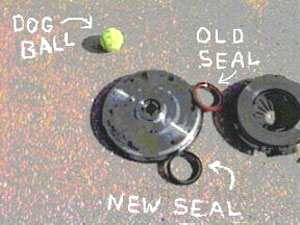 Each time the farmer made a pass, the bus was further disassembled. First bumper, then sheet metal, then engine, clutch, flywheel, and finally, oil seal.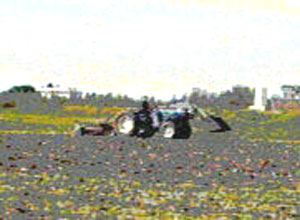 Then we put it all back together in reverse order. In two hours and ten minutes we had pulled the engine, removed the seal, replaced the seal, replaced the engine! The farmer was still disking. The bus was up and running with no leaks and good oil pressure. The folks at the Jiffy Lube, the foreign parts house, and the tool rental store were all friendly and helpful. I will never cast aspersions on Yuba City again.
"Yippee, we're out-a here!" Vacation continues!
Nightfall found us on the far side of Reno, Nevada.
The next day we zoomed down 395 to Big Pine and then left the security of blacktop and headed east for Eureka Valley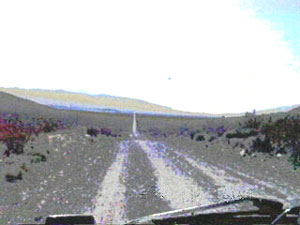 on a rough dusty road.
We spent our second night camped in the Last Chance Mountains,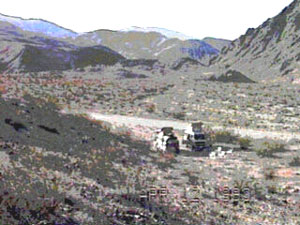 surrounded by nothing, except desert wild flowers and silence. The next day we drove past Crankshaft Crossing and headed for the Ubehebe Crater. There were too many people at the crater for my taste (at least five) so we pressed on for the Racetrack and the "moving rocks". Once past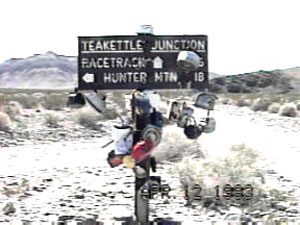 Teakettle Junction;
that was the end of the crowd! After visiting the Racetrack we reached the Lippincott mine and the turnoff to Saline Valley.
I had heard about this approach to Saline Valley five years ago. It was said you might be able to go down it, but you could never get back up. "The road is too loose and too steep." We pulled up to the lip of the canyon and gazed down into the distance. Saline Valley shimmered below.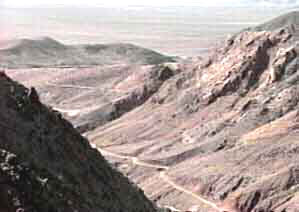 I noticed previous tracks going over the lip!
"Yep", I hollered at Ed over the CB, "somebody went down, the road must be open."
We shifted into first gear and started down the rut, winding around and over large rocks and soft sand.
According to the map it should only be about five miles down through the canyon to reach the bottom. At the second switch back the ladies elected to walk. Just as well. Ed and I needed someone to move rocks out of the way, fill in the washouts, and explain what happened to us if we slipped off the edge, that is, if the ladies ever found their way back to civilization.
I had just turned fifty two the day before and in all the rambling and poking around I have done over the years, this little road turned out to be the most exciting road I have ever traveled; better than Baja, better than Alaska!! Ed said it was more scary than sky diving. It definitely held our attention!
Five miles and two and a half hours later, we finally reached the alluvial out flow of the canyon, found a relatively level spot to park, called it a day, and established...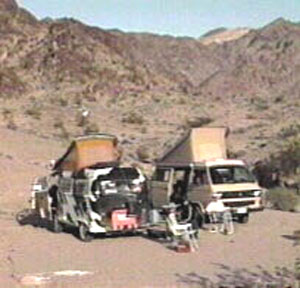 "Camp Jubilee!"
We were so glad to be alive and undamaged that we stayed put for a day and a half and just read our books! Ah, what a vacation!
The rest of Spring Break was relatively tame. Out the south end of Saline Valley, on a more sane road, two nights in Panamint Valley. A visit to friends in Darwin. One night at the Pinnacles in Trona. Then, up and over Walker Pass and home again, stopping off for a fine dinner at the Basque Restaurant in Winters.
Another Spring Break in the bag.
Major engine repair and maximum bad road.
It's going to be tough to top this one!